Greetings Friends! today we logged onto Club Penguin Rewritten and successfully raided igloos and got the party stamps! We did some stunning tactics then directly started igloo raiding! Led by Nelly, Joe, Maya, Snowy, ROOBOO, Mandal. Thank you all for attending!
MAX: 49+
Comment below if you attended the event!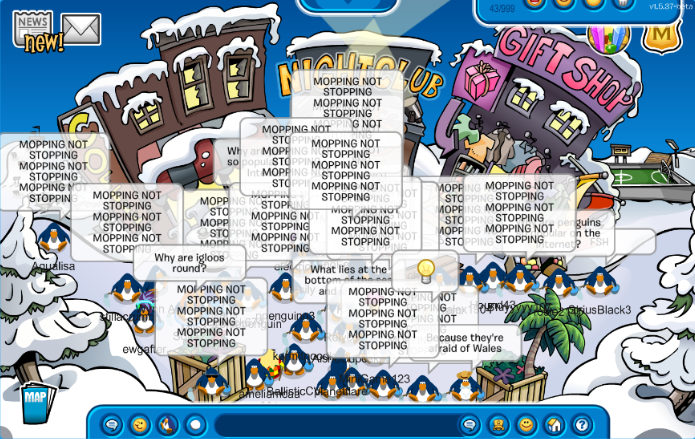 ---
Unleash the Power of Helping! 
Till next time!

Filed under: Best CP Army, Club Penguin, Club Penguin Army, CP Armies, Event Posts, Help Force Army, Help Force Club Penguin, Help Force CP, HF CP, HF of CP, INT, Official Events Tagged: | Best CP Army, Blue Guitars CPR, blue letterman jacket gang, blue letterman jacket gang cpr, Blue penguins cpr, Club Penguin, Club Penguin Army, Club Penguin Battles, Club Penguin HF, CP Armies, CP Help Force, CPR HF, EU, Event CPR, Event Posts, Fun Event CPR, Help Force, Help Force Army, Help Force Club Penguin, Help Force CP, Help Force Events, Helpers Force CPR, HelpForce CPR, HF, HF Army, HF CP, HF CPR, HF CPRewritten, HF Event, HF Joe, HF Nelly, HF of CP, HFCPR, Igloo raid, Igloo Raids, Igloo Stamps, INT, Joe, Joe CPR, Joe HF, Mandal CPR, Mandal HF, Maya CPR, Maya HF, Nelly CPR, Nelly HF, Official Events, Official Events Tagged: | Balloon Event, Official Events Tagged: | HF CPR, Official Events Tagged: | Nelly, Rooboo CPR, Rooboo HF, Snowy CPR, Snowy HF, U-Drill, U-Drill HF, U-Lead, U-lead CPR, US Tagged: | Army HF, US Tagged: | Best CP Army