Hey Helpers, welcome to CPA Today, a new addition to HF's Web Family! CPA Today, brings you news from all across the CPA Community, with the latest ongoings in all the armies! For our first edition, we look back at the past 3 days for all of the armies!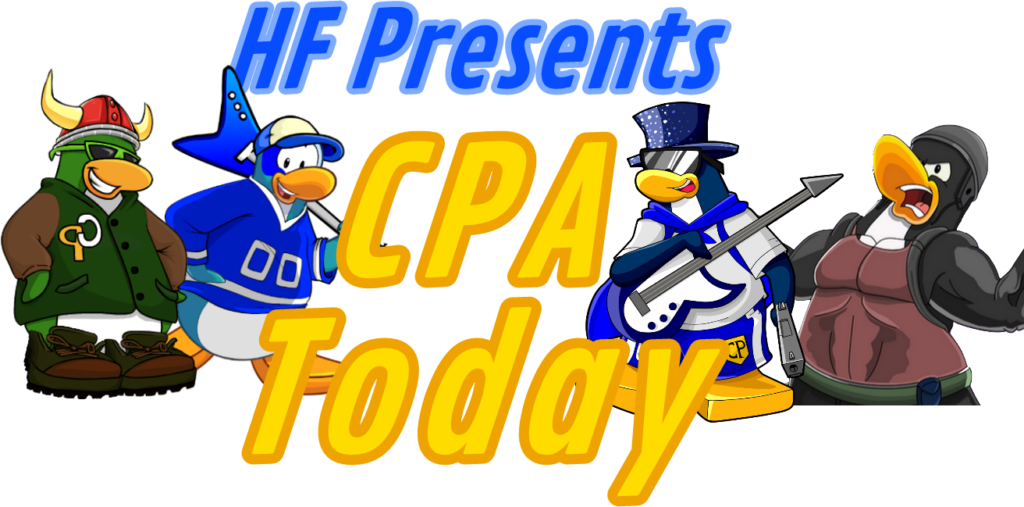 Army of Club Penguin – ACP
Lets start off with our Clover Brothers! ACP celebrated their history week, which involved various throwback events like color wars! This spectacular event was celebrated with Water Vikings, Silver Empire, as well as us, Help Force! Let's not forget the historic battle against ACP's old enemies, Romans, UMA, and Nachos. The army also introduced a new gaming project,
The Army of Mammoth
. This is ACP's brand-new gaming division and will be used to compete against other armies and in tournaments etc. In CPAHQ's top ten listings, ACP came in 2nd place with a rating of [84.52], raising them one place higher, surpassing the Ice Warriors whilst also crossing 10k members in their Discord. Congrats!
Blue Ravagers – BR
Cries Cult – CC
It seems like Cries Cult was busy crying their hearts away! It's okay CC, we knew Spotty being in there was a problem <33
Fire Warriors – FW
The Fire Warriors had an AUSIA training event on Friday that maxed 10, and on Saturday an EU practice battle vs RPF maxing 20. To start of a new week, they will be holding a Marvel Themed Week!
Help Force – HF
Help Force spent Friday at a wonderful snowball fight in the Color Wars against the Army of Club Penguin, Water Vikings and Silver Empire, to celebrate ACP's history week! The next day, HF welcomed an AUSIA event, cleaning up the streets of CPRewritten! With 49 penguins cleaning, it seems like the Yellow Snow had vanished! HF spent Sunday taking a break from the penguin side of things and hopped into Among Us!
Ice Warriors – IW
Ice Warriors had an AUSIA training event on that maxed 41, then had an EU practice battle vs the Templars that maxed 50, then had a dance training event that also maxed 50. IW dropped to 3rd on the TT. IW SIT archie8 and Grace were promoted to staff, and IW Trusted Staff DrQueen was promoted to LIT
Peoples Imperial Confederation – PIC
PIC had fun with a Hawaiian Lei takeover, as well as a talent show and an AUSIA event. Nothing major happened for their army this week.
Pizza Federation – PZF
Pizza federation had a splendid and gorgeous Minecraft wedding in which Kehato one of the Pizza federations staff members married Bacchus a troop in PFZ.Apart from the wedding they also did some Unscheduled recruiting, Nothing major in terms on Club Penguin Rewritten happened because it was Exam week for their Leader R3TRO. Good luck we, hope you ace those exams!
Rebel Penguin Federation – RPF
RPF had a Spring Gala on Sunday. They logged onto CPR and also played games like Skribbl. They had a heated three-way battle between their two divisions, Navy and Air Force, and their allies the Fire Warriors. The Navy came out victorious. RPF had over six operations on CPR this week.
Red Ravagers – RR
Between Friday and Sunday, Red Ravagers organized three army trainings in different time zones, focusing on speed and formation practice. They also had fun with other activities like scavenger hunt or skribbl. Their hard work during this week made then finishing 9th in the ACP's Top Ten.
Silver Empire – SE
Silver Empires had many events this week, including a practice battle against their allies Water Vikings, the color wars, and a dance contest. Last week's Good Noodle Award was given to their member soymilk. Nothing major happened for their army this week.
Special Weapons and Tactics – SWAT
In the past three days SWAT hosted only one event which was a battle training that saw a max of 17 agents online. With that event concluding the week they once again secured 8th place in the newest Top Ten ranking provided by the Shamrock Bulletin.
Templars CP – TCP
Templars organized three events in the period between the 9th and 11th of April, including a practice battle against Ice Warriors and army trainings. Thanks to it TCP finished at the rank of 7 in the Top Ten armies.
---
Thank you for tuning in to CPA Today! We hope to see you again very soon with lots more exciting news from the forefront of CPArmies. Until then!
CPA Today
Jayden, Joe, Lydia, Snowy, Swager, Wynn
Filed under: Best CP Army, Club Penguin, Club Penguin Army, CP Armies, CPA Today, Help Force Army, Help Force CP, HF CP, HF of CP, Web Series Tagged: | ACP, Armies CP, Army of Club Penguin, Blue Ravagers, Club Penguin HF, CP Armies, CP Help Force, CPR Power Force, CPR Stamp Meetups, CPRewritten, Cries Cult, Fire Warriors, FW, Help Force, Help Force Army, Help Force Club Penguin, Help Force Club Penguin Rewritten, Help Force CPR, Helpers Force CPR, Helping Force CPR, HF, HF Army, HF CP, HF CPR, HF CPRewritten, HF of CP, HFCPR, Ice Warriors, IW, Peoples Imperial Confederation, Pizza Federation, PZF, Rebel Penguin Federation, Recon Federation of CP, Red Ravagers, RPF, SE, Silver Empire, Stamp Hunters CPR, Stampers Force CPR, SWAT, TCP, Templars, Templars of CP