Hey Helpers, welcome to CPA Today! CPA Today, brings you news from all across the CPA Community, with the latest ongoings in all the armies!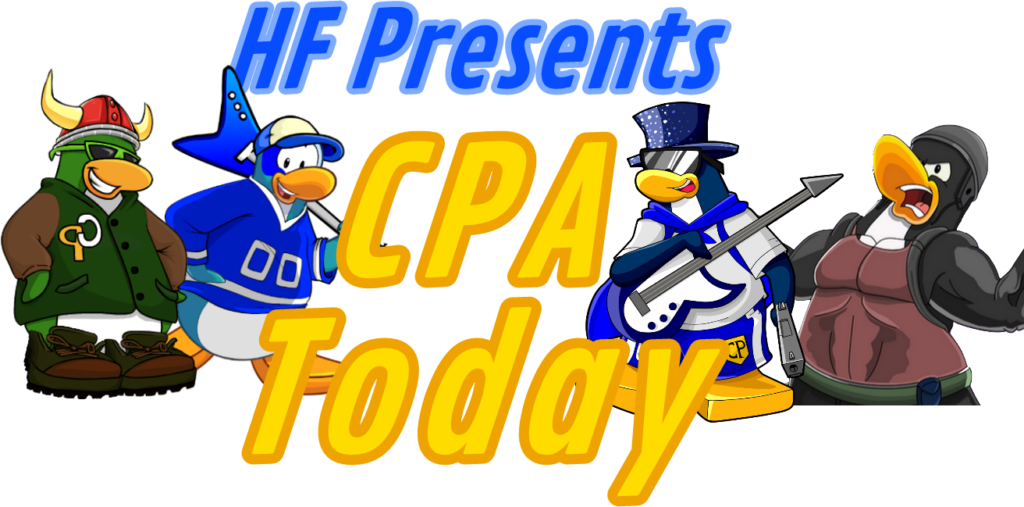 Army of Club Penguin – ACP
ACP was busy this week, hosting a total of 9 events. Their highest max was 55. After starting off the week with a fun Shamrock Safari, they followed up with several undercover agent events. ACP finished on Saturday with a three-way battle between their allied HF and DCP, maxing 37 soldiers online. This week, ACP achieved #3 on the TT.
Blue Ravagers – BR
Blue Ravagers, hosted no events this week.
Doritos of CP – DCP
Fire Warriors – FW
FW hosted 4 events this week. Their highest max was for both the events "Operation: Ball Cap Takeover" attaining 13+ penguins online. They also had a Find-Four Tournament which also had 13 penguins participating .This week they achieved #11 in the TT provided by the Shamrock Bulletin, Securing the same position from the previous week.
Help Force – HF
HF spent the week continuing to get high maxes in its AUSIA and EU division. Along with their usual events, they attended a three-way battle labelled "The Brotherhood Battle" along with allies Army of CP and Doritos of CP. After finishing in 1st on the Top Ten last week, HF moved down a position to second place this week.
Ice Warriors – IW
IW hosted six events this week, including three practice battle with SE , HF, RPF. Their highest max was for their "Spy mission: Lost Bagels" event attaining 45+ penguins online.They also had an Trivia Thursday and a game day which was held along with the PB with RPF. This week they achieved #4 in the TT provided by the Shamrock Bulletin, Securing one position down from the previous week.
Peoples Imperial Confederation – PIC
PIC had a fun Rainbow-Theme week, hosting many colorful events. They hosted a total of 6 events this week, seeing a max of 18 penguins. PIC moved up to #12 in the TT this week, congrats!
Rebel Penguin Federation – RPF
RPF had 14th anniversary this week, celebrating with many events. They saw an incredible max of 104, by far the highest of any army this week, as well as securing the #1 position on the TT provided by the Shamrock Bulletin.
Red Ravagers – RR
RR organized 6 events this week with the highest max of 20 Ravvys online, finishing 10th in the ACP's Top Ten, 3 spots lower than last time. After a few battles with Silver Empire when their enemies sadly didn't show up, RR declared victory in the first phase of the war and put it on hold till SE won't be able to avoid fights any longer. That's not all the news from Red Ravagers though – we wish Mermaid Bri, former Red Commander, and Scorpion Demon, former Second in Command, a happy retirement, we salute you!
Silver Empire – SE
SE hosted six events this week, including three practice battles with their allies IW, ACP, and WV. This week they achieved #6 in the TT provided by the Shamrock Bulletin, finally moving up from #5. Their highest max this week was a great 31 penguins.
Special Weapons and Tactics – SWAT
SWAT hosted 3 solo events and one battle with the biggest max of 25 Agents at their Graduation Takeover. This week they finished 9th in the Shamrock Bulletin Top Ten Armies Ranking , one position higher then previously.
Templars CP – TCP
TCP had a busy week with multiple games or movie nights and a total amount 5 army trainings and operations hosted on Club Penguin. Their highest max reached 30 penguins online at Operation: Crusade Paradise. Their efforts has brought them 8th position in the Shamrock Bulletin Tope Ten ranking, same as the previously. All the preparations were necessary for a battle week which TCP is now entering.
Water Vikings – WV
WV had a lot of fun events this week including 2 movie nights, a chess tournament, a few music nights, an among us game and lastly a skribbl.io game.WV celebrated a rainbow week, which had different colored themed takeovers including purple, blue, green and red maxing 22, 29, 25 and 26 receptively. They had an AUSIA Ocean Oracle Debut Event celebrating the debut of the Ocean Oracle maxing 16.An US kite flying event maxing 26.Lastly WV had a practice battle against their allies AOS maxing a total of 18 troops.
---
Thank you for tuning in to CPA Today! We hope to see you again very soon with lots more exciting news from the forefront of CPArmies. Until then!
Amy, Jayden, Lydia, Mandal, Snowy, Swager, Wynn
Filed under: Best CP Army, Club Penguin, Club Penguin Army, CP Armies, CPA Today, Help Force CP, HF CP, Web Series Tagged: | ACP, Army of Club Penguin, Army of CP, Blue Ravagers, CPA Today, CPR HF, CPR Power Force, CPR Stamp Meetups, Cries Cult, Fire Warriors, Fire Warriors CP, Help Force, Help Force Army, Help Force Club Penguin, Help Force Club Penguin Rewritten, Help Force CP, Help Force CPR, Helpers Force CPR, Helping Force CPR, HF, HF CP, HF CPR, HF CPRewritten, HF Jayden, HF of CP, HF Wynn, HFCPR, Ice Warriors, IW, Jayden HF, Joe HF, Peoples Imperial Confederation, Rebel Penguin Federation, Red Ravagers, RPF, SE, Silver Empire CP, Snowy HF, Stamp Hunters CPR, Stampers Force CPR, Water Vikings, Water Vikings CP, WV, Wynn HF