Helpers, visitors and raccoons, welcome to yet another edition of the series that you were all waiting for! Yes, this Sunday's Faces of the Force is finally here! If you don't know, each week we are interviewing one of the most active and helpful members of HF. Everyone has a chance to be featured! Hope you will enjoy the new post and the conversation with the definition of sweetness… Juanita!
Meet Juanita, a member of US division with the rank of Commando Brigade. She joined us not so long ago but already has a huge influence over the community! She is active, both at the events and in the chat, where she brings kindness and Latino American vibe but what's more, Juanita is a person of many fascinating interests! Wish her luck in pursuing them! Also stay tuned for the publishing of the first Help Force member's autobiography and read the post carefully for a little sneak peak!
---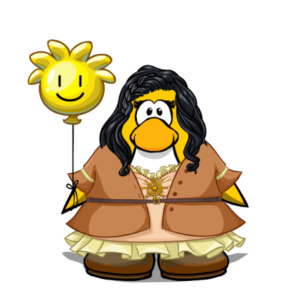 Wynn: Hi Juanita, so happy you could join me today! How are you feeling?
Juanita: Hi Wynn! I'm great, how are you? I'm super excited to join you today. Lately I've been enjoying the Faces of the Force section a lot and I couldn't feel more honoured to be part of it!
Wynn: Awww thank you so much, good to know someone follows it! I'm awesome too, thanks for asking! My first question is traditional – when did you join Help Force?
Juanita: I joined The Help Force in the last days of December 2020. I was playing Club Penguin Rewritten and I randomly stumbled upon what I would later find out was an stamp segment. I saw this bunch of penguins working together to get an stamp I think it was one of the Night Club ones and I decided to join them because why not! After a while, we visited igloos to help the owners get their Igloo Party stamp and someone suddenly told everyone else to go to mine. It was very unexpected for me, but I was really grateful to finally get that stamp! We visited some other igloos and then Diwix asked me if I would like to join HF. I had no clue of what it was but the idea of having a group of friends to help me get stamps sounded amazing, so I joined the Discord server not knowing about the fun journey that was waiting for me. And the rest is history!
Wynn: Not gonna lie, watching your growth in the server is so heartwarming! What made you stay active throughout all this time?
Juanita: Thank you so much, Wynn! I would say that what made me stay active is the amazing people in this community, including you. When I joined I had no clue that Club Penguin Armies existed and on top of that I barely knew how to use Discord. I was very confused at first and I didn't know what to do, but thankfully I had people who helped me when I needed it. If it wasn't for the love I have received from people like Monika, Diwix, Plotter, Pippy, Pixie, Denny, Snowy, Javi, Maya, Mexican Trash and many more, I wouldn't be here and you wouldn't be interviewing me. I think I owe you guys a lot more than I will ever be able to give back I'm also thankful to every single person who I ever exchanged "Hellos" and "How are yous" with. Even these little things made my experience a lot more delightful. This community is very welcoming, warm and fun to be around and I wouldn't change anything of it.
Wynn: I can feel that, my story was similar
If you were about to write a book on the basis of that history, maybe an autobiography, what would be the title?
Juanita: This is one of the best questions I have heard in a long time! I believe I would name it A Helping Hand. It's related to the name of our army and it's also a name that I think relates to me in a personal level. Before the pandemic, I was really into volunteering and supporting causes that are very important to me. If it was an autobiography I would absolutely dedicate a part to talk about how beautiful it is to give a part of yourself to others, which is what a lot of people do in HF. The things you will learn and the experiences you will have while doing that are utterly priceless.
Wynn: Oh wow, the title is absolutely perfect! Can you tell me what other achievements are you planning to include in that autobiography? Earning the highest rank? Becoming staff, a blogger or designer? Getting GoTW?
Juanita: I've been thinking a lot about joining the blogger team. Writing is one of the things that I enjoy the most and I have a little bit of experience since I'm currently studying Journalism! So maybe Jayden will hear from me soon
Wynn: I hope he will, I'm going to keep pushing you till you ask him! Gosh, sounds like Help Force really suits you! Please tell me more about what you do in your life. How do you see your career in journalism and what do you volunteer for?
Juanita: LOL I think Jayden will get my DM in the near future! About my career, I'm not completely sure of what I want to do in the future but I would like to tell everyone reading this that being a journalist is not only about being on TV! There are SO many things that you could pursue! I'm considering getting into the research area or business communication. Even though I'm not certain, I just know that whatever I choose to do, I'll try to give it my all because I truly love my field.

The causes that I've had the blessing to volunteer for are mostly related to helping communities in need, for example, victims of a natural disaster or a conflict. One of my favorite memories while volunteering is from 5 years ago. It was around Christmas and we spent almost a week in a village that had been flooded in the past. I got really close with a little girl who was very sweet and since then I've wanted to volunteer for something related to children. Causes related to animals and nature are interesting to me too! I look forward to get back on track with these activities soon, hopefully after the world is in a better situation.
Wynn: I hope it will soon, what you do sounds amazing! And what about your free time, any hobbies?
Juanita: I think I have a simple life. Studying takes most of my day but when I have free time I like to turn to my small hobbies that help me ease my mind from all the stress. I love listening to music (in fact, learning to play an instrument is one of my frustrated dreams) and also I truly enjoy discussing it. One of things that I miss the most is going to concerts. I love coloring books, reading and writing as I said earlier, collecting keychains, languages (I'm currently learning German but I'm still pretty bad at it) and photography. My career also made me feel very interested in film theory, so after watching a movie or series, I like to break it down in different ways with someone else. Lately I've been obsessed with cooking videos for some reason I'm a homebody so I like to stay most of my time inside, but I love going for a walk too.
Wynn: Awww, another person with tons of interests! What concerts were you attending? More classical or modern music?
Juanita: Definitely modern music! I'll always enjoy a pop concert no matter the artist, but I also like to attend festivals where musicians from my country perform. There's just something about Latin American music that gets into your body and makes you move!
Wynn: Hahaha, i know nothing about Latin American music, you need to show me some in the VC one day! What instruments would you like to learn playing then?
Juanita: I would absolutely love to show you some songs! I believe the sound from a piano is one of the most beautiful things in this world. If I had the chance to start learning to play one, I would choose the piano
Wynn: I can certainly see how your personality influenced HF community but do you think HF made an impact on your personal life?
Juanita: I think I mentioned a few times in the server that I suffer from social anxiety. During the first days it was very hard for me to talk and join the convos because I'm terrified of being judged or being made fun of. Being the new person between a group of people is also very hard for me, but after seeing how nice everyone was, I kind of decided to give it a try. The fact that we were talking online helped a lot, to be honest. I got closer to some people really quickly and after that I was not afraid of being here anymore. I don't think anyone realized the huge impact they had on me, but they did! So one of the many things I have learned while being here is to let go of my fears and insecurities a little bit more. Isolating myself has really made me miss out on many good things in life and I'm so glad I didn't do it this time, but it wouldn't have been possible without the amazing people in HF.
Wynn: That's another beautiful story to include in your "Helping Hand" autobiography! I hope you will feel better eventually! HF helped me a lot as well, it's a wonderful community and working for it is a pleasure! For our traditional last question – do you want to tell anything to our readers?
Juanita: Thank you Wynn, I appreciate it a lot! My message to the readers is just a few small, friendly reminders. Let's spread kindness whenever we can! You never know how much of an impact you can have on a person by just being kind. Let's all live up to our Helper roles and give everyone around us some love and encouragement when they need it. Also remember to take care of yourself and drink water
Wynn: Thank you for the important reminders, for being part of the Help Force and for your time Juanita! I hope you will have a great evening! I can't wait for you to show me some music!
Juanita: Thank you so much for having me, Wynn! I had a lot of fun with you and I'll get my playlist ready
---
And with that we sadly end the interview with the irreplaceable Juanita! Hope you all learned something about her and enjoyed the post. Don't forget to send our guest a big hug when you meet her in the server and stay tuned for another edition of Faces of the Force arriving next Sunday! Thank you again for your time Juanita and thank you everyone for joining us today!
---
Unleash the Power of Helping!

Filed under: Best CP Army, Club Penguin, Club Penguin Army, CP Armies, Faces of the Force, Help Force Army, Help Force CP, HF CP, HF of CP, Web Series Tagged: | CP Armies, CP Help Force, CPR Help Force, CPR Helper Surfer, CPR Helpers Force, CPR HF, CPR Power Force, Faces of the Force, Faces of the Force Juanita, Faces of the force Wynn, FotF, FotF Juanita, Help Force, Help Force Army, Help Force Club Penguin, Help Force Club Penguin Rewritten, Help Force CPR, Helpers Wynn, Helping Force CPR, HF, HF CP, HF Interview, HF of CP, HF Wynn, Juanita, Juanita HF, Penguin Juanita, Stamp Hunters CPR, Stampers Force CPR, Wynn FoTF, Wynn HF, Wynn Interview