Hey Helpers! Welcome to HF Insight!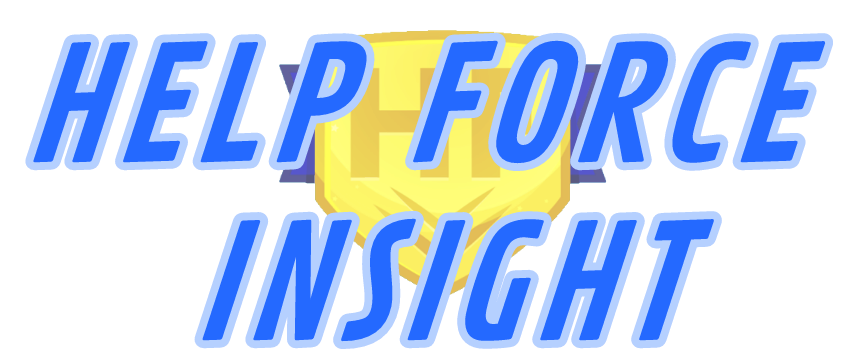 Table of Contents
What's been Happening
Week in Short
Bean's GOTW Statement
Army Statistics for the Week
HF Insight Insider Information
What's Happening?
Welcome to What's Been Happening?! Here we will go through all the latest server updates for the week and of course, we can't forget the casual HF Gossip! Let's find out What's Been Happening!
This week we continue our legacy with our prosperous and numerous events, fun games, and segments!
Stay tuned down below for all the amazing news that happened throughout the week!
---
Week In Short
Sunday, 5th of June 2022
We started off the week while being tributes for [AUSIA] OPERATION: HUNGRY GAMES that had a max of 30+! Led by Desi and Plotter, it was truly amazing! I also congratulate Katie and Earthly for eliminating other tributes and winning, hope everyone had fun!
Monday, 6th of June 2022
Today was a break day with lots of fun and amazing times in chats and in Force Arcadium!
Tuesday, 7th of June 2022
Tuesday was also a break day with many fun games in Force Arcadium!
Wednesday, 8th of June 2022
For the love of animals, Help Force decided to do an [EU/US] OPERATION: CRAB COWABUNGA that was led by Potato and ROOBOO! With a max of 18+, we had lots of fun!
Thursday, 9th of June 2022
Thursday Yay Day! We had a break day with fun games in Force Arcadium!
Friday, 10th of June 2022
Celebrating World Oceans Day, in which we created a post for, we had an event to raise awareness and also enjoy! The [US] OPERATION: HIGH TIDES GOOD VIBES which was led by Maya and Nervous, and had a max of 17+, was amazing!
Saturday, 11th of June 2022
Before ending the week, what else could we do but give free corn?! [AUSIA] OPERATION: CORN CALAMITY was our last event of the week! Led by Nervous and Deli, with a max of 25+, it was fun especially since there was free food being given!
---
Bean's GOTW Statement
Bean: First off, I'd like to thank the academy… lmao jkjk, but I would like to thank y'all for the support you've given me. I didnt know what it was like to be in a club penguin army, up until I had joined HF 2 months ago. I enjoy being in this server and being able to chat with you guys everyday. Yes I have my off days, but you guys are still there. Most of you may not know me but are still there for me. I really appreciate you all and you guys are like a family that I've never had. Thank you all for being kind
---
Army Statistics for the Week
Thanks to the TOP TEN ARMIES by CPAN and TOP TEN ARMIES by CPAHQ here are the statistics for the week!
---
Inside the HF Insight Insider Information
We recruited many Helpers from the 5th of June – 11th of June! Welcome, all you new amazing helpers!
If you have any insights about HF make sure you DM ROOBOO#8738!
Well, that's all we have for today! Join us next week as we take a look at the newest events that unfold. Keep unleashing the power of helping!
---
Unleash The Power of Helping
Help Force Second in Command

Filed under: Best CP Army, Club Penguin, Club Penguin Army, CP Armies, Help Force Army, Help Force Club Penguin, Help Force CP, Help Force Insights, HF CP, HF of CP Tagged: | Bean GOTW Interview, Bean HF, Bean Interview, Bean Statement, Best CP Army, Club Penguin, Club Penguin Army, CP Armies, CP Help Force, CPAB Helper Ice Fishing, CPAB Helper Surfer, CPAB Helpers Force, CPAB Helpers Surfing, CPR Help Force, CPR HF, CPR Power Force, CPR Stamp Meetups, Gamer of the Week, GOTW Bean, GoTW Interview, GOTW Specialist, Help Force, Help Force Army, Help Force Club Penguin, Help Force Club Penguin Army Battleground, Help Force CP, Help Force CPAB, Help Force Insight, Help Force Insights, HF, HF Admiral, HF Bean, HF CP, HF Marshal, HF of CP, HF of CP Tagged: | Bean CPAB, HF of CP Tagged: | Best CP Army, HF Rooboo, HF Second in Command, HF Statistics, Insight, Rooboo HF, Stamp Hunters CPAB, Stampers Force CPAB, Web Series Tagged: | Armies of Club Penguin, Web Series Tagged: | Army Statistics, Web Series Tagged: | Best CP Army, Week In Short