Hey Helpers! Welcome to HF Insight!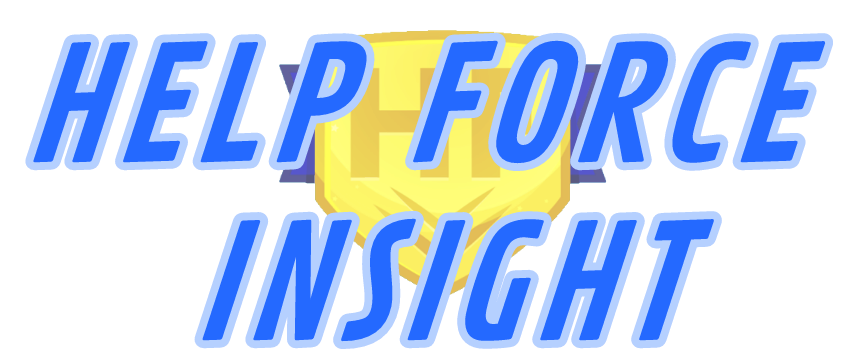 Table of Contents
What's been Happening
Week in Short
GOTW Interview and Statement
Army Statistics for the Week
HF Insight Insider Information
What's Happening?
Welcome to What's Been Happening?! Here we will go through all the latest server updates for the week and of course we can't forget the casual HF Gossip! Let's find out What's Been Happening!
The March Madness Tournament has ended! This week we Celebrate Easter and not only that, we also introduce the New and First Blue Squadron Batch!
Happy Easter Help Force Family!
---
Week In Short
Sunday, 28th of March 2021
After the end of March Madness, we had a good start of the week. Today we had 4 fun events filling up the day! Starting off with an AUSIA Skribble Session which was super fun! Following up an INT Movie Night, EU Krunker Training and a US Among Us Session! In between we had segments.
Monday, 29th of March 2021
Today was also a free and amazing day! We had 2 fun events: AUSIA Krunker Session and US Jackbox! Segments going great all the time 😉
Tuesday, 30th of March 2021
We began our first Operation and Event today! We had an amazing [AUSIA/EU/INT] Operation: Heist led by Nelly, Slush, and RU and with a max of 53+, a really great time! Multiple segments were going along as well.
Wednesday, 31st of March 2021
In the middle of the week we organized even more creative and fun events! Today we had the [AUSIA/EU INT] OPERATION: BUGGED BUNNIES led by Amy, AO, Wynn, Barnito, and Ayan and a max of 43+! It was a good day filled with segments!
Thursday, 1st of April 2021
April Fools! First day of the month, first battle of the month! Today we had an intense [EU] PRACTICE BATTLE VS WATER VIKINGS led by ROOBOO that saw a max of 38+! As usual Segments one after one!
Friday, 2nd of April 2021
Today was a pretty calm day with a few fun activities. We hosted Hide and Seek and Krunker! That along with segments made a good rest and preparation for the huge events tomorrow!
Saturday, 3rd of April 2021
Double Event Saturday! Today we organized 2 huge events. We started off with the [AUSIA] CAFFEINE OVERPOWERED led by Barnito and Chloe and a max of 42+! We also had the [EU] DIVISION BATTLE led by Jayden, Lydia, Rooboo, Chloe, Joe, Mandal, Maya, and Wynn and with a max of 41+. This day was all wonderful! As usual segments going amazing through the day!
---
GoTW Interview and Statement

Dated: 4/05/2021
HFI: Today is a very special interview and it's our honor to have someone who has been here for so long, someone who was a very active troop and a Marshal, and a very beautiful and kind person! The one and only Senorita Monika! Pleasure to have you! So in the beginning how are you today?.
Monika: Damn, what a good introduction Rubu… HOLA HELPERS actually, it's my honour to be here ty Rubu cutie!
HFI: Woohoo thank you really the pleasure is ours! So Monika after being here for so long, getting GOTW last week, and even being staff for so long, what made you think of getting GOTW again?
Monika: Well, I actually didn't think about it this time. It all started with Ken coming back from being inactive and making this bet with him about who gets Major first. Since I'm very competitive I started recruiting bc I knew, that for the first roles you only need 500 sapphires so yeah. I started gaining sapphires and BOOM I was first. So yeah, fun week.
HFI: Wowwww hahah! A competition definitely boosts a motive up I love that haha! And BAM here you are! Ok Monikaa tell us about how much hard work it takes to achieve GOTW?
Monika: You have to be ready to attend everything you can, from mega events and normal events to fun events and segments. I have to be honest, it was harder to get it before but that doesn't mean you just sit there and ONLY attend events. Recruiting, in my opinion, has an important role in order to get more sapphires. That's why I recruited people when I had free time this week and when there wasn't any segment going on. I know it's hard and sometimes people are beyond rude (if you recruit on the CPR server) but you just have to keep going. This week I didn't spam like last time bc my alt got disabled for that.
HFI: I can totally agree! It's all about dedicating and contributing different ways of activeness! It takes a lot of time and a lot of sacrifices follow along! So far from that what do you like to do on your free time? Hobbies? Activities?
Monika: Well, I don't have that much of a free time now. This semester has been taking my time so much like damn So every time I do have free I'm studying for the next exams or reading something. I like to read… I used to be a volunteer firefighter and I used to dive a lot since I'm a scuba diver.
HFI: Wowwwww! I hope the best for you with your studies! Woww Fire Fighter!! That's so cool dear! Scuba Diving I wonder.
I gotta train you someday haha! Sooo what's your favorite thing about being in HF?
Monika: Well, that's actually the reason I'm still active even after retiring. The community and I love that every single time you ask this question people respond with the same answer because that's really the beauty of the Help Force. Just being able to come online in your free time and being greeted by people, having a nice chat, joking around and so on. It's a great environment that hasn't changed even though a new generation started.
HFI: That's actually the reason behind it all: Family! It's the reason the majority stay in the end.
What would you tell to anyone here reading this about GoTW? Your advice.
Monika: To not overdo, just do what you are capable of doing. It happened to me once, I wanted this so bad I just went crazy recruiting and tried to get as many sapphires as possible. Yeah, those are important but at the end of the day this is just a game. Recruit when you can and attend what you can. If you are going for GoTW ofc you're gonna attend more and recruit more but what I mean is not to take it to an extreme because at the end that's not good for you Real life also matters and it's more important.
HFI: Oh my how true! It's so wise to leave energy for further times! Anyone can possibly get it and there's always time indeed! So Monika if you have one last statement to say about Help Force, GOTW, the journey, the family, just all in all. What would you say?
Monika: Yeah exactly, everything happens when it has to happen. At the right time, in the right place… Oh well I would say… Ohana means family and family means nobody gets left behind or forgotten every person that was, is and will be in HF is important and makes an impact in this and us as people, that won't change.
HFI: I can't tell you how much I love that Ohana sentence.. I've always been told that. ;') That's so beautiful of you really and it was my honor to simple Interview you and get to know those stuff from you! I can't wait till as many read this. 😉 Thank you so much for being here and for simply being amazing! Congratulationsssssss once again!
---
Army Statistics for the Week
Thanks to the TOP TEN ARMIES by ACP, here are the statistics for the week!
---
Inside the HF Insight Insider Information
We recruited 100+ Helpers from 28th of March – 3rd of April! Welcome all you new amazing helpers!
If you have any insights about HF make sure you DM ROOBOO#8738!
Well, that's all we have for today! Join us next week as we take a look at the newest events that unfold. Keep unleashing the power of helping!
---

Filed under: Best CP Army, Club Penguin Army, CP Armies, Help Force Army, Help Force Club Penguin, Help Force CP, Help Force Insights, HF CP, HF of CP, Web Series Tagged: | Armies of Club Penguin, Army Statistics, Best CP Army, Club Penguin, Club Penguin Army, CP Armies, CP Help Force, CPR Help Force, CPR Helper Ice Fishing, CPR Helper Surfer, CPR Helpers Force, CPR Helpers Surfing, CPR HF, CPR Power Force, CPR Stamp Meetups, GoTW Interview, GoTW Monika, Help Force, Help Force Army, Help Force Club Penguin, Help Force Club Penguin Rewritten, Help Force CP, Help Force CPR, Help Force Insight, Help Force Insights, HF, HF CP, HF Marshal, HF Monika, HF of CP, HF Rooboo, HF Statistics, Insight, Monika cpr, Monika hf, Monika interview, Rooboo HF, Stamp Hunters CPR, Stampers Force CPR, Web Series Tagged: | Armies of Club Penguin, Week In Short