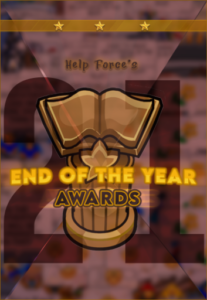 This year went by in a flash and it feels like yesterday we were here voting for last year's awards. As time goes by, our collection of memories expands. We are pleased to look back on our achievements, we learn from our mistakes and look ahead with hope. Every month brought us something new, from spectacular battles and hilarious takeovers to war declarations and dramas. Many people left and new ones joined but everyone had their personal impact on our community. At the end of the day, we have many important moments to commemorate and a lot of people to thank. It is now the time to vote for the best ones. We proudly present to you The Help Force End of the Year Awards for 2021.
As most of you might already know, the awards are sorted into various categories with nominees in each one of them.
Important Note: Do not vote for a person because they're your friend, or they mean a lot to you. Vote for them only if you think they're the most suitable for the award.
The Voting is to be done by Commenting in the Post Below. Filling out your name is MANDATORY. The Voting Procedure is given at the end of the Post.
<><><><><><><><><><><>
Best Commander
A Leader is not just someone who is there to lead battles or give orders. A leader is someone who will recruit troops, guide them all along and strive to be better. Leaders aren't identified by how popular they are, or how many sizes did they manage the army to get to. Leaders are the ones in the army who take notice of each detail happening in and around the army and then make decisions for the betterment of it. The nominees for Best Commander are as follows:
[**You can only vote for 1**]
Vedant
Nell
Ayan
Elp
Wynn
Snowy
---
Distinguished High Command
High Command includes Staff members from the Admiral rank and above. They have a closer relationship with the Army Leaders and directly participate in conversations about developments and changes in the community. Their opinions have great value, and they are loyal and trusted members who are always prepared to aid the leaders in battles. The nominees for this category are as follows:
[**You can only vote for – Maximum 3**]
Joe
Mayathefirst
ROOBOO
RU
Scorpion Demon
Desireus
Diwix
Snowflake
Amelia
Jayden
---
Virtuous Staff Members
The Staff team comprises of people who work hard behind the scenes and help the leaders in many areas. A staff member is the one who's responsible for keeping the community fun and alive while moderating chats, welcoming new members, guiding the troops to a better understanding of the army. The nominees for Best Staff Member are as follows:
[**You can only vote for – Maximum 3**]
Mandal
Alex1904
Phoenix
Vixx
Drknessbtw
Sam Chilles
Plotter12
Mantiuxx
Beasto
AbsoluteTrash123
Amy Santiago
Swager
Rainbowdj
Slush
Lydia
---
Topmost Showdown
The category refers to that one battle against an army that people were working very hard for it, whether it was a war or practice battle, everyone was hyped, mass recruiting, having their discord names changed and waiting with great excitement for the day to battle the other army and show them that Help Force is the Best Force. Click on the battle to be redirected to the post of it. The nominees for Best Battle are as follows:
[**You can only vote for – Maximum 2**]
---
Design Prodigy
The Army's Designers Team have always helped with various themed designs in the community, be it server banners, server icons, custom graphics, emotes and many others. A few designers have really stood out during this year. Their creativity and skills are highly appreciated. The nominees for Best Designer are as follow:
[**You can only Vote for 1**]
Scorpion Demon
Beasto
Sharky
Vedant
Amy
Wynn
Komal
Xtra
Zamb
---
Most Creative Blogger




Continuously supplying the army with new content every week, the Help Force Blogger Team has always kept us up to date with the newest Club Penguin news, always humoured us with stories, engaging interviews, contests and not to mention, the famous Help Force Beacon. The nominees for Best Blogger are as follow:
[**You can only vote for 1**]
Scorpion Demon
Dhanush
PinguMaliz
Jayden
Snowy
---
Supreme Helper
This category gives a special distinction to those members who ever since they joined the army, they have been engaging in multiple events, being active almost daily, trying their best in everything. They have a nice affinity with their colleagues and are loyal to the army. Hyping up events or segments, helping newcomers into the army and ranking up the promos, the troops are the core of the army community and without them, we wouldn't be the Best Force there is. The nominees for Best Helper are as follows:
[**You can only vote for – Maximum 3**]
ILikeChimkin (Ally)
Wet Water (Runa)
EarthlyGodly
NervousZippo
Walver
Ivelkov
Sopphie
Dhanush
Eshal
Delitager
JJ
Nene
Skillz
Jason Red
Aqualisa
WiminHolo
Wolfi_anme_Dolfi
---
Most successful Help Force addition
The Army has seen multiple changes throughout the year, new additions, new ranks, quite an impressive server revamp. But which of them did the members appreciate the most? The nominees for Most successful Help Force addition are as follows:
[**You can only vote for 1**]
Bot Pavle
HF Sapphire System
Junior Staff ranks
Blitz Recruiting
---
Dynamic Blitzers
One way to show the power and strength of an army is by the loyalty of its troops and the way recruiting goes. The better the recruit, the more the morale is boosted and more people join the community. In this category we present those army members that have worked hard for recruiting, managing to get new faces in the force and gaining high numbers of recruits. With the new Blitz Server, the nominees for Best Recruiters are as follows:
[**You can only Vote for – Maximum 2**]
Ayan
Scorpion Demon
Wynn
Joe
Sam Chilles
NervousZippo
Mandal
Snowy
Walver
---
Diehard Dynasty Members
Dynasty Members are those who had a great contribution to the army in the past and have stood out. A few of them are still active today and support the Army in its biggest events and battles. They will make their presence observed in the chat and will always speak up. The nominees for this category are as follows:
[**You can only Vote for – Maximum 2**]
Ao
Lisa
NeoBlaze
Komal
Morty
Amy
Swager
Janez
---
Most Comical Trends
You cannot spell 'Help Force' without 'chaos'. Laughs & confusion are guaranteed on a basic day in Help Force. These moments will be unforgettable and carried on for generations. The nominees for Most Comical Trends are as follow:
[**You can only Vote for – Maximum 3**]
Overtime?? Day
Sus Day
Hotel? Trivago.
Burn Takeover
Anonymous Staff Takeover
RPS Demotions
Duck Force
Chonkyboy Takeover
Nap Segments
yoyomepenguin Takeover
Cartoon Characters Takeover
"I have fucking boobs" Takeover
2020 Throwback Takeover
---
Greatest VC Leaders
Ever since VC Leading become more popular, we witnessed plenty of voice reveals which surprised us. VC Leaders always keep our spirits up during an event and sometimes they're so convincing, that the members will refuse to leave the voice channel. The nominees for Greatest VC Leaders are as follow:
[**You can only Vote for – Maximum 2**]
Vedant
Nell
Joe
RU
Snowflake
Wynn
Snowy
Mandal
ROOBOO
AbsoluteTrash123
---
Most Mischievous Duo
You have always seen them together in chat and causing chaos. Everyone knows their names and the memories created by these duos are endless. The nominees for Most Mischievous Duo are as follows:
[**You can only Vote for 1**]
Snowy & Mayathefirst
NervousZippo & Mantiuxx
Desireus & Archana
Ayan & Elp
Desireus & Yoda
Plotter & Alex
Xtra & Mayathefirst
<><><><><><><><><><><><><><><><>
Voting Procedure : [Through Comments of this Post]
Copy this format in the Comments Section, and fill it up:
[ALL DETAILS MUST BE FILLED IN ACCORDANCE WITH THE GIVEN INFORMATION]
Discord Name:

Votes for the End of the Year Awards 2021:

Best Commander –
Distinguished High Command –
Virtuous Staff Members –
Topmost Showdown –
Design Prodigy –
Most Creative Blogger –
Supreme Helper –
Most successful Help Force Addition –
Dynamic Blitzers –
Diehard Dynasty Members –
Most Comical Trends –
Greatest VC Leaders –
Most Mischievous Duo –

Voting Ends on 30th December, 12:00 PM GMT
<><><><><><><><><><><><><><><><>
Filed under: End of the year Awards, Help Force Awards, Help Force CP, HF CP, Important News Tagged: | Ball Caps Takeover CPR, CP Help Force, CPR Help Force, End of the Year Awards, Help Force, Help Force Army, Help Force Awards, Help Force Club Penguin, Help Force CP, Help Force EoTY, Help Force EoTY Awards, Help Force News, HF, HF Awards, HF CP, HF News, HF of CP