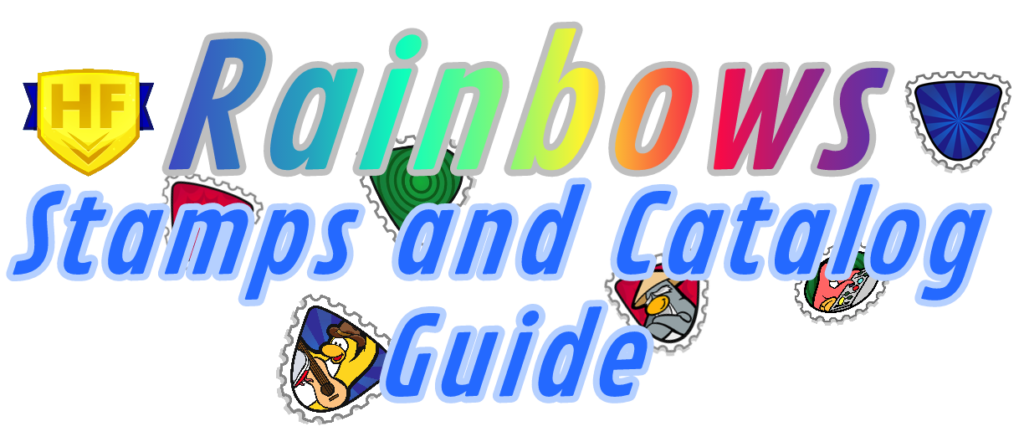 Welcome back, Helpers! Here we have another Catalog Guide of Rainbow's, this time Prehistoric style! Tune in to see May's Catalog Guide, especially where to find the different Letterman Jackets! 

Here on the fifth and sixth page, we have the Colorful Cardigan, Gray Furry Boots, Green Letterman Jackets, Green Striped Rugby Shirt, Black Letterman Jacket and the Blue Letterman Jacket!
Next up, we have the Red Letterman Jacket, Blue Sunglasses, Interstellar Makeup, Pink Letterman Jacket and The Befluttered!
Followed by, we have the Pink Toque, Newspaper Hat, The Wavecatcher, Sushi Tray and the Asteroid Costume.
Lastly, we have the Dapper Sweater Vest and the Bright Tights Outfit!
That's all we have for the Month of May! See you at the next catalogue!
---

Filed under: Best CP Army, Club Penguin Guides, Help Force CP, Rainbows Stamps and Catalog Guide, Web Series Tagged: | Catalog Guide CPR, CP Guide, CPR Guides, CPR Help Force, CPR Helper Surfer, CPR HF, CPR Power Force, CPR Stamp Meetups, Help Force, Help Force Army, Help Force Club Penguin, Help Force Club Penguin Rewritten, Help Force CPR, Helping Force CPR, HF, HF CP, HF CPR, HF CPRewritten, HF Rainbow, HFCPR, Rainbow HF, Stamp Hunters CPR, Stampers Force CPR