Thank You For Waddling on HFIsland
It's no surprise that HFIsland is closing down, like many other CPPS' ours ran on Flash. This CPPS was started as a way to have more fun within Help Force, sadly all our planned projects never came to light because of this shutdown but we did enjoy a lot with custom pins, items and events. This post will take you through "unseen" things and even through the history of HFIsland!
June 10th was HFIsland's birthday, what started off as an experiment for fun between staff, transposed into reality just a day later. I along with Tistle, decided to bring in a channel for staff only to help build HFIsland on what was then used on CPPSCreator.
Hey, look! Here's a really cool room we had but sadly never gave to you guys
With continuous effort on the CPPS that was hoisted by a 3rd party, Janez tried getting his own domain and site working for HFIsland. Great news! It worked!
By June 15th, Janez figured it all out and got HFIsland ready for its closed beta!
But wait I think we reached a big ol' hiccup! Yup, you guessed it! HFIsland had some bumps we weren't expecting! One of which was Parties, where we couldn't get the UI for parties to work! So getting items from parties could have only been done by codes! Yes, we did figure it out eventually! You've seen it at the Halloween Party!
After driving through these bumps, we finally reached the 5th of July! HFIsland was introduced for one and all!

Now, we realized HFIsland was just like any ordinary AS3 CPPS, we needed something else to make it different! We had a few plans for bringing in some games from the Circus but unfortunately, we never added it in!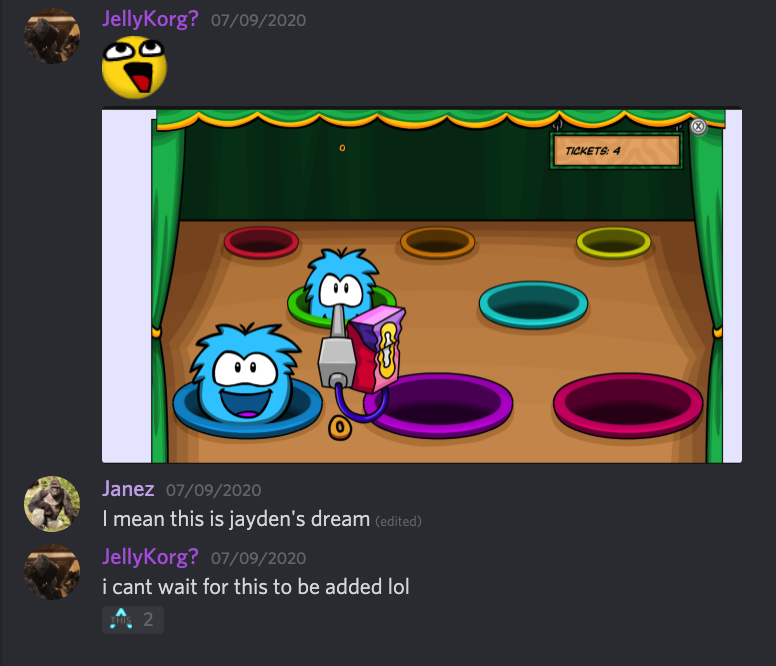 Oooo this next part is my favourite because it was so fun to work on! The Blue & Gold! In case you guys didn't know, we worked on a web series specifically for HFIsland! It was the Club Penguin Times equivalent for HFIsland! It was a lot of work to do which is why it went on for a few issues only. 
Before I give you guys a link to an unfinished version of the blue and gold, we also had a bunch of plans for the first month of our release!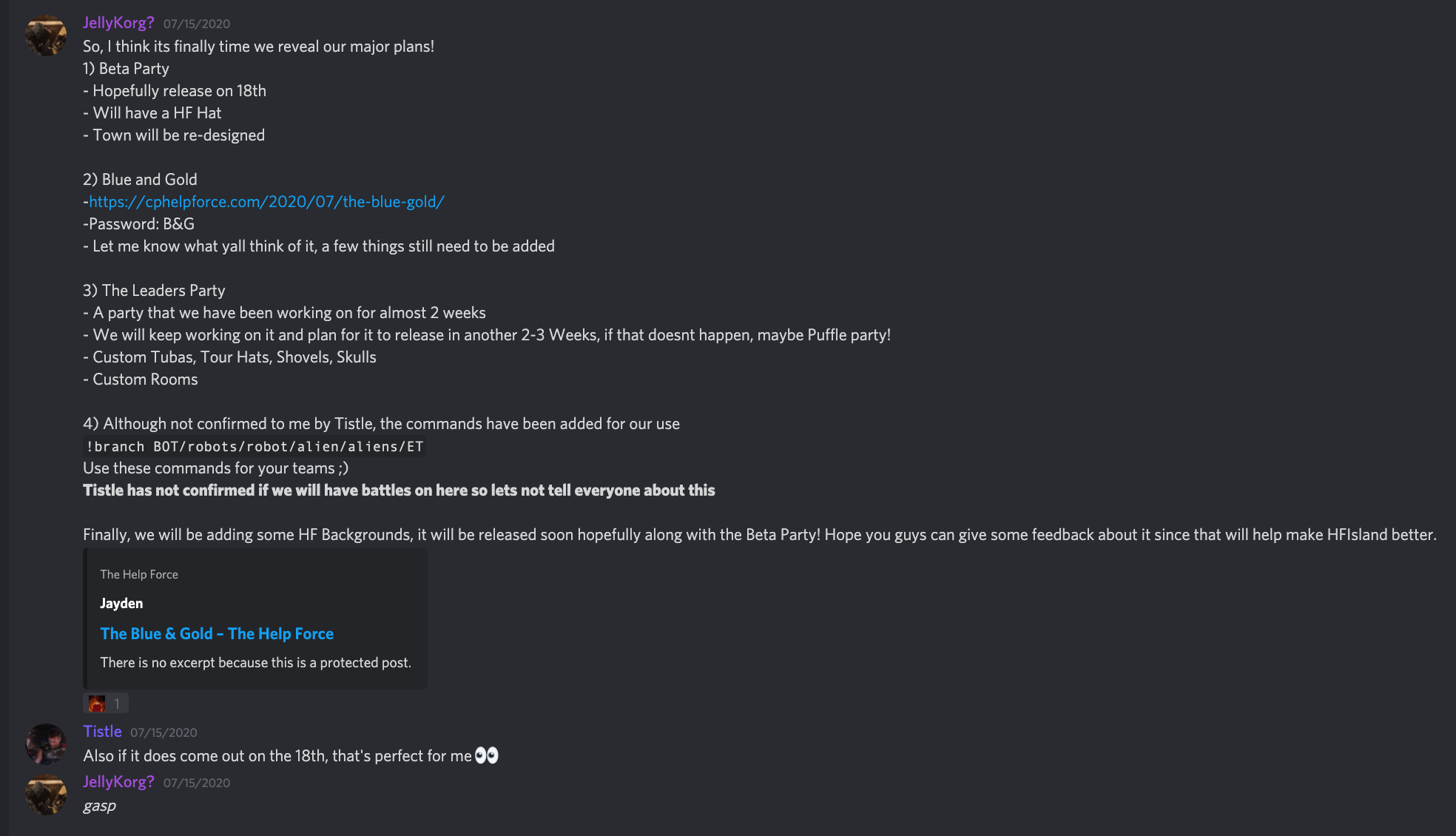 If you guys would like to take a look at the last Blue & Gold, click here! The Leaders Party was something I had planned for, it would have been a massive party. We planned for custom Tubas, Skull Masks and Shovels, all 3 things which were favourite items of our Chief and Commander. We had many items all ready for adding into our CPPS too! Here are 2 of our items that were made by Designer Sharky and 3 more by our General, Crystal!
We then reached another hiccup! Adding these items' sprites into the game was where we got an oopsie! We tried all that we could but it seemed like it wouldn't happen anytime soon, which led to the cancellation of the party. The rest of the story from here? You know it all! we had loads of fun, enjoyed custom pins and many more! Before we move onto a few words from our friend who made all this possible, a few words from me!
So! We've reached the end of an era, one we all saw coming, but working on this CPPS for the past 6 months made this end even more of a heartbreaker. I never expected this CPPS to grow in the way it did, the amount of fun you guys had as well as the fun i had made this growth feel very different and joyful. We enjoyed our Ticket Arena Challenges, HF Tournaments and even some great and unique retirement events! As HFIsland says goodbye, i want to thank all of you helpers and staff for making this a fun experience and to Janez for implementing my stupid ideas as well as listening to me LOL. I also need to thank Tistle, for giving the green light to this wonderful project! Without these 2, HFIsland could never grown! The final set of people are of course my friends ze staff! You guys respected my spreadsheet and like , also you guys really helped me and Janez a lot with decisions and approvals and like y'all are great! Finally, i wanna  thank you all for unleashing the power of helping on the best CPPS there ever was, Waddle On! <3
Now, a few words from the brains side of HFIsland!
The time has come to say goodbye to Help Force Island. Something that started as a joke has grown to a community of almost 3000 players, which may not seem as a lot, but I have never dreamed of running a web application with so many people. I generally don't do these speeches where I thank my mom, dad, brother and sister, however here I feel like it has to be done. I would like to thank:

– Jayden for being my partner in crime. Idea was initially his and also made the "alpha" version of the game.

– Tistle (and later Barney) for supporting the idea and getting on board with it as well as promoting it to all the members of Help Force. Without your blessing, HFI wouldn't exist.

– Barney, Crystal and Sharky for designing amazing items for HFI to use, as well as Josh for making the HFI logo. You guys made HFI stand out from all other CPPSes and gave people another incentive to play it. – All other moderators for constantly listening to my complaining in chat while there were more important things to do. Thanks and sorry.

– Wynn, Snowflake (soft), Piesu, EBlorimer and Comedy for being freaking amazing and supporting HFI financially. I could never express how grateful I am and everyone else should be as well, because if it wasn't for these absolute LEGENDS, HFI would die a lot sooner.

– Lastly I would like to thank YOU the player(s) for trusting me with your information by registering, playing the game and hopefully enjoying it. You guys are the pillars who hold everything together. If not for you, HFI would literally be a pile of ruins.

And because I suck at doing these speeches, please read some interesting and cool stats about the community on Help Force Island. Thank you so much!
Together stats:
Penguins: 1978
Time played: 372.726 min, (258 days)
Coins earned: 110.000.000+
Friendships: 5.244
Ignored friend requests: 188 (sry, I had to)
Logged in: 17.971 times
Card-Jitsu Cards owned: 36.568
Furniture owned: 14.646
Penguin Igloos decorated: 1569
Clothing items owned: 50.720
Postcards sent: 4799
of which unread/unopened: 1195 :(
Puffles adopted: 1883
Codes redeemed: 1479
Stamps collected: 12.457
Tracks made in Sound Studio: 122


Thank you for playing HFIsland, it's been a pleasure to collect stamps with you!
---
Jayden
Head Editor, HF Marshal
Janez
HFIsland Co-Founder
Vedant
Reviewer, HF Commander
Filed under: Best CP Army, Club Penguin, Club Penguin Army, Help Force Army, Help Force CP, HF CP, HF of CP