Introducing A New Series
Hey everyone! Spread the joy of Helping! This is the beginning of a new series of posts and guides that will be showing you how to maximise the number of stamps you can get in games in Club Penguin Online! Please note that these are only Game Stamps. Event, Party, and Mascot Stamps have their own guides. Since this is a really new series, we're going to start with some basics!

Thin Ice
Today's game is the simple arcade game, Thin Ice. You can find this game in the Dance Lounge, just above the Dance Club. Thin Ice has 9 stamps in total; 1 easy, 3 medium, 3 hard and 2 extreme stamps. To play the game, use the arrow keys on your keyboard to move your fiery black puffle on the ice. But be warned, if you aren't careful with how you move, you might end up drowning. Now that the basics are out of the way, let's get into the guide!
P.S. Every level, except Level 1, has two variations. They have really small differences but I've added them anyway!
---
Level 1:
If you need help with this level, then maybe take it slow…it's for your own good

Level 2:
a)

b)
Level 3:
a)

b)
Level 4:
From this level onwards, you start getting coin bags. These add about 100 points to your total score.
a)

b)
Level 5:
a)


b)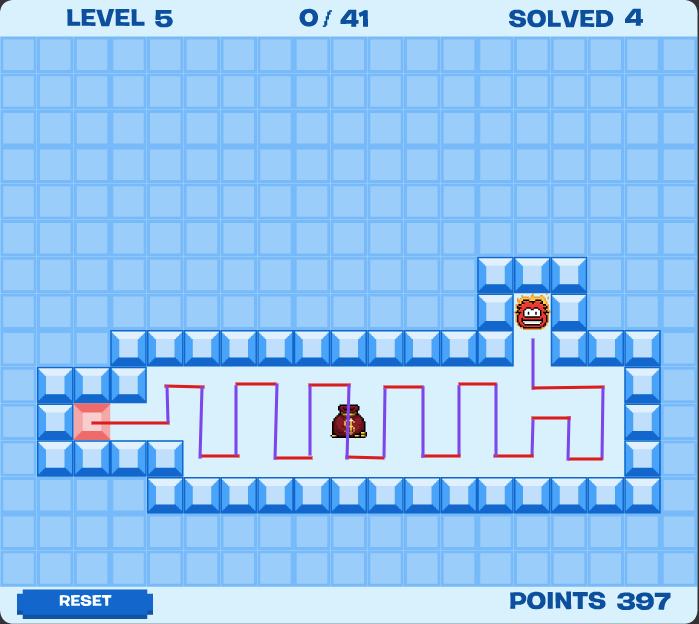 Level 6:
a)

b)
Level 7:
Introducing, the Thick Ice tiles. Unlike regular tiles, you can go on these tiles TWICE. So be careful not to forget them.
a)

b)
Level 8:
a)

b)
Level 9:
a)

b)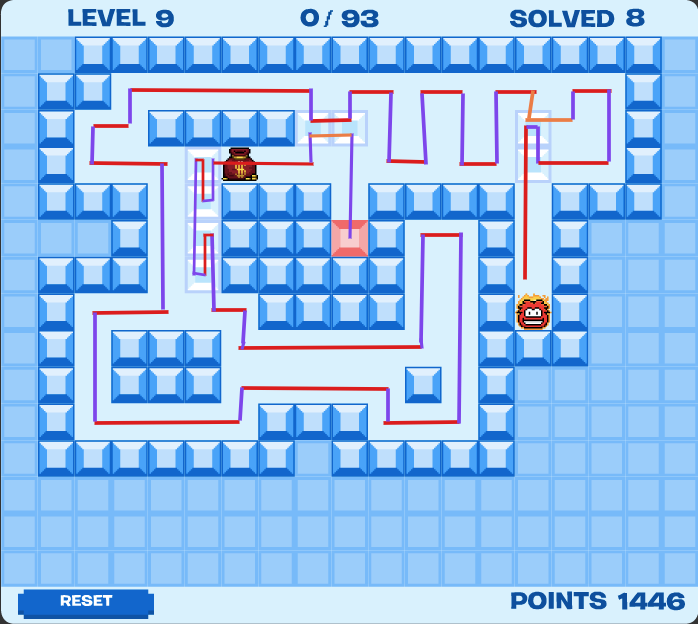 Level 10:
This level introduces the Keys & Locks. To get to the end, you must get the Key to open the Lock. To open it, just move your puffle next to the Lock and it opens. Ta-da!
a)

b)
Level 11:
a)

b)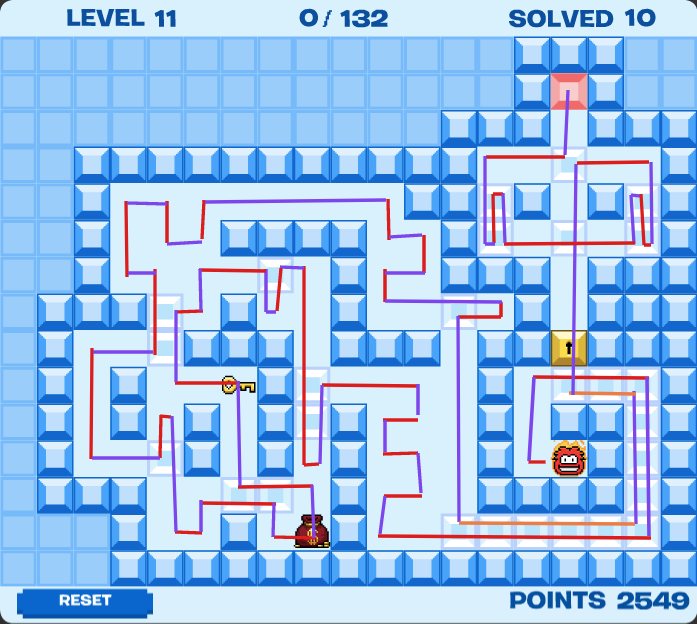 Level 12:
a)

b)
Level 13:
Now comes the Movable Ice Block and Destination Tiles. While not necessary to reach the next level, to solve the level completely the block has to be moved to the Destination Tiles.[Final Destination yay!]
a)

b)
Level 14:
a)

b)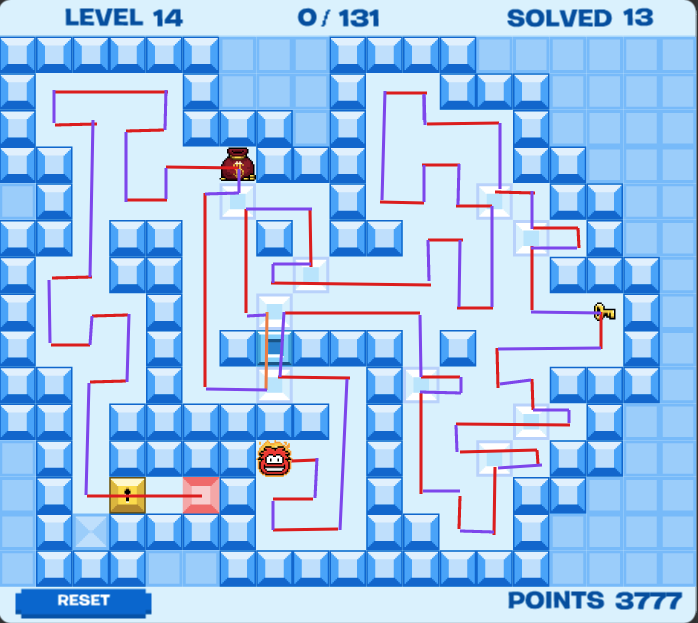 Level 15:
a)

b)
Level 16:
a)

b)
Level 17:
Now comes the tricky Teleporter Block. Using this block, you can teleport from one green block to the other. It is a one-time use block only. When used, it fades into another block. [Beam me up, Scotty!]
a)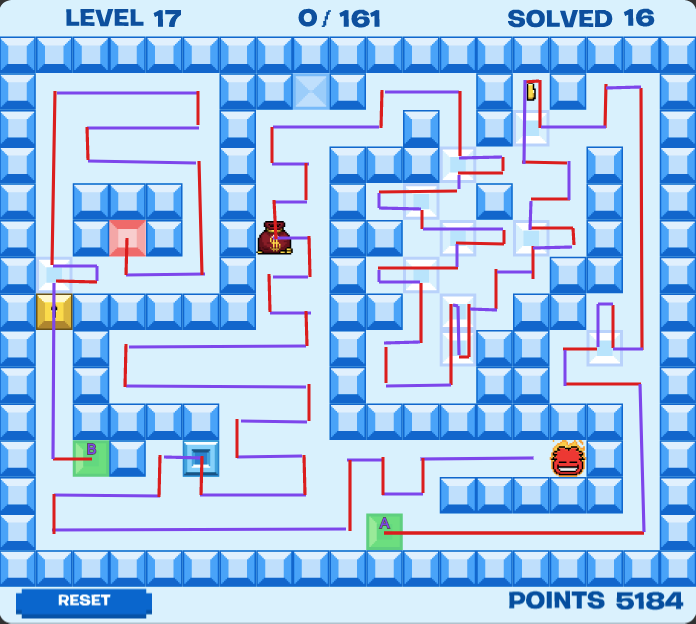 b)
Level 18:
a)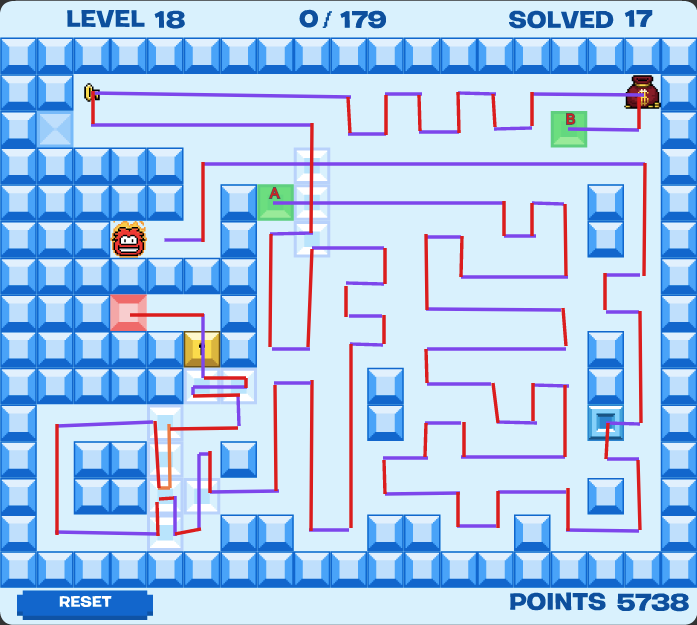 b)
Level 19:
Now here comes the final level of Thin Ice. The fun thing about this is that there's a secret chamber [A Chamber of Secrets] which is filled with coin bags. But, there's a catch. the amount of coin bags you get here depends entirely on the number of levels you solve completely. So, you could get anywhere from 2 to 18 bags here. 
Variation a)
[part 1]

[part 2]

Variation b)
[part 1]

[part 2]
---
Some more stuff to say about this.
Finishing all these levels completely should give you all 9 stamps in one go instead of having to play over and over like other games. That's the fun thing about Thin Ice.
Using the RESET button at the bottom is really helpful, but once you re-use it, your points not only reset but decrease a bit. This reduces the amount of coins you get in the end. It only reduces it once, then you can re-use it however many times.
Your total coins given is determined by ([Your Points]/10) and rounded to the nearest 10. Once you get all the stamps and play again, it will be doubled because of the coin bonus.
You can obviously finish some levels in different ways. The ways I've shown above are just the easiest and fastest to remember.
Now then! Enjoy using this guide for Thin Ice. I'll see y'all on my next post! Help On!
Credits: Chloe710<3 for inspiration; CPO for the game; Y'all for everything else!

Filed under: Club Penguin Guides, HF CP, Stamp Helping Army, Stamp Meetups