What's poppin helpers? Over the past two weeks we have seen an incredible struggle between two terrifying species of monsters, werewolves and vampires!!! This week long fight all took place during HF's 5th Theme Week!!! Where helpers and staff all choose either Team Werewolves or Team Vampires to fight for. However, only one of these teams were victorious.
The team leaders were:
Commander: Barnito
Voltruri– Nelly, Jayden, Holly, Chickn, Dawnables, Janez, Joe, Josh, Ru
Alphas– Kendall, Monika, Riley, Lafille, Crystal, Rooboo, Planet, Stemv, Mayathefirst
Events
This theme week saw many events being hosted by our staff team. Almost all of these events were Halloween themed and had helped both teams get points during the theme week. These points were ultimately needed to win the theme week. We hope you enjoyed participating in these events as much as we enjoyed hosting them.
Tournaments
This theme week saw many tournaments be hosted by staff and helpers. Attending tournaments would win points for your team and winning the tournament would get even more points for your team. The tournaments that were hosted include;
Hide & seek, Card-Jitsu, Scavenger hunt, and More!!
Congrats to all those who won a tournament and thank you to all those who participated in one. We hope you enjoyed it.
HF Spooky Makeover
For this theme week everyone's color was changed to match their team. Many changed their names and some even changed their profile pictures to snarling vampires or fierce werewolves. A Special server banner was created by our very own talented designer, sharky. Make sure to thank her for creating the incredible art work.
[INT] Battle of the Beasts
Max: 55+
This massive battle was the last stand between the vampires and werewolves. Both teams went head to head in 5 rooms and each was insanely close. The battle went into a 6th overtime room where all bests tried their hardest to outperform the other. In the end, the vampires were victorious and gained a large sum of points for beating their furry friends.
Event post: https://cphelpforce.com/2020/11/int-battle-of-the-beasts/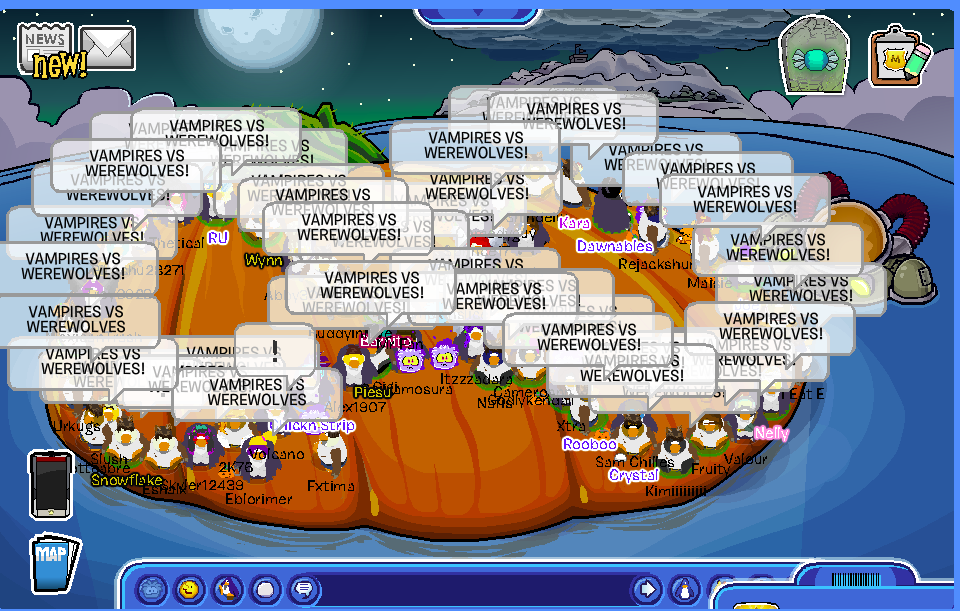 Conclusion
But was it enough? Were the points gained by the vampires enough to to put them ahead of the consistent attendance and points earned by the werewolves? IT WAS!!! The vampires won the incredibly close theme week though their victory at the Battle and impressive activity both in the chat and during segments.
The Trophy given to team vampires for winning the theme week
Trophy Designed by Xtra
We thank everyone who participated in this theme week, we hope you all had fun being hideous monsters and celebrating Halloween with us. Congratulations to Team Vampires for winning this theme week and thank you to Team Werewolves for putting up an impressive fight and helping make this an incredible theme week.
Thank you all for reading and participating in this incredible theme week. Comment below your favorite part of the theme week or comment the teams you would have chosen.
Filed under: Club Penguin, Help Force Army, Help Force Club Penguin, Help Force CP, HF CP, HF of CP