Hello Helpers!!! Welcome back to another edition of Food for Every Soul, a series by myself where I interview people from Help Force about their favorite and famous recipes! For this post, I decided to interview a sweet, friendly, active, hardworking HF Second Lieutenant: Addisyn!
I started off by asking her some questions about this delicious recipe!
---
Hello Addisyn! Thank you for me letting me interview you today! Can you tell us what type of recipe you will be talking about today?
Addisyn: I'll be talking about the Yummy Birthday Cake Fudge 😛 
---
Why is this recipe important to you, is it a family recipe or any history/story behind it?
Addisyn: As a Teenager, I see this as a nostalgia snack as I used to bite it as a 1 year old baby and this dish used to be my family's favourite dessert
---
Here comes the best part, the Recipe!!! (As described in detail by Addiysn)
The Ingredients are: 
» 1 can (14 ounces) sweetened condensed milk 
» 1-1/2 cups white baking chips 
» 3 tablespoons butter 
» 1/8 teaspoon salt 
» 1-1/2 cups unprepared Funfetti cake mix 
» 3 tablespoons sprinkles 
The main recipe: 
» Line an 8-in. square pan with foil or parchment; grease foil lightly. 
» In a large heavy saucepan, cook and stir milk, baking chips, butter and salt over low heat until smooth .
» Remove from heat; stir in cake mix until dissolved. 
» Spread into prepared pan; top with sprinkles. 
» Refrigerate, covered, until firm, about 2 hours Using foil, lift fudge out of pan. 
» Remove foil; cut fudge into 1-in. squares. 
» Store in an airtight container in the refrigerator.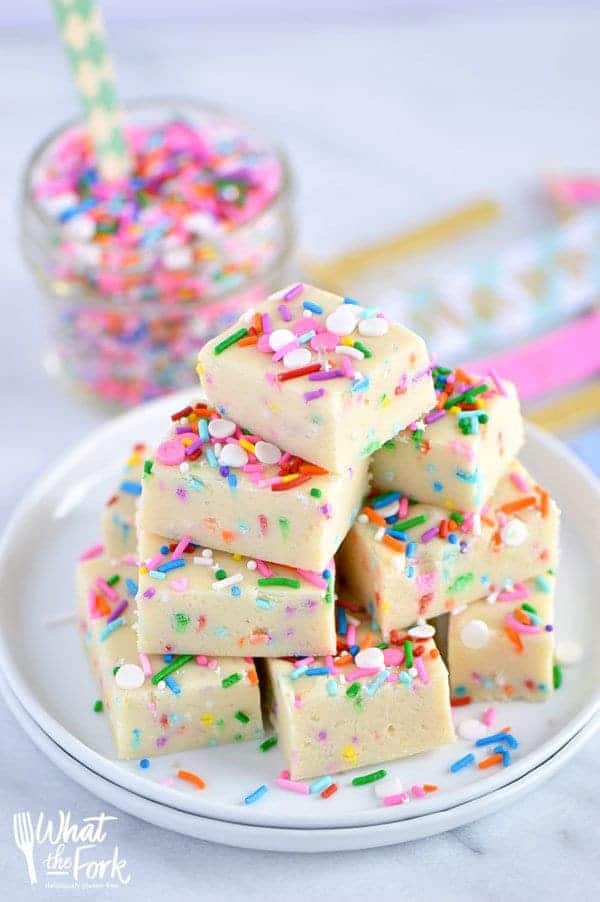 ---
Do you have any tips or tricks on making it or why people may like this recipe, or any memories from it?
Addisyn: I'll share some tips about storing it and I'll tell, why is it good for you as well! 
» How do you store fudge? Have leftovers? Storing fudge is simple. Place birthday cake fudge in an airtight container and store in a cool, dry place for about a week. If you're looking to keep it fresh for longer, fudge is a good food to freeze. Wrap the fudge tightly and freeze for up to a year.
» How do I keep the baking melts from seizing? A drop or two of water can cause your baking melts to seize and the batter can become gritty. To prevent this, make sure your mixing bowl and tools are completely dry.
» What are some other birthday fudge variations? Fudge recipes, like this one, are easy to customize. If you're making this recipe as a gift, change up the sprinkles to suit the theme or the party or a person's favorite colors. You can also experiment by adding different chopped nuts or dried fruits into the mix.
---
 Thank you for sharing this amazing yummy recipe with us Addiysn!
Addisyn: Np, That is all for me, try it at home! Taste the heaven yourself!
With that everyone, we've reached the end of the post! We know you wanted to read more xD but I will be back next time with more fresh and delicious content!!!
If anyone would like to share a recipe with us, DM me with your ideas!!
Bon Appetit! <3
---
Filed under: Club Penguin, Club Penguin Army, Food For Every Soul, Help Force Army, Help Force Club Penguin, Help Force CP, HF CP, HF of CP Tagged: | cake mix, Chips, container, delicious content, Food for Every Soul, Food for Every Soul HF, Food HF, fudge, HF Addiysn, HF Maya, HF staff Maya, ingredients, Milk, Mix, refrigerate, sprinkles