Hello Helpers! Welcome back to another edition of Food for Every Soul by myself, Mayathefirst! In this series I interview people from the Help Force about their favorite and famous recipes. For this one, I decided to interview another og 2020 member, who was also 2ic in HF and everyone's favorite raccoon, HF Cabinet Secretary: Alex1904!
I started off by asking Alex some questions about the recipe he decided to share with us today!
---
Hello Alex to the interview! Can you tell us what recipe you will talking about today?
Alex: I chose to talk about 'chocolate salami', no it's not literally salami, but that's what the name translates to 😀
---
Can you tell us why this recipe is important to you? Is it a family recipe, and is there any history or story behind it?
Alex: It's quite important because it reminds me of holidays! I don't know if I can call it a 'family recipe', we didn't literally create it, but my grandma and I (mostly her, I just crush the biscuits) make this recipe every time there's a holiday- Christmas and Easter for example, so it's become a tradition for us. Even though we make multiple batches of it, it always disappears the next day
everyone in our house enjoys it
---
Here comes the best part, the recipe! (As explained by Alex)
Ingredients
» 300g Sugar
» 1 1/2 dl Water
» Syrup
» 200g Butter
» 50g Cocoa
» 500g Crushed Biscuits
» 1tsp Lemon Peel
» 1tsp Rum
Steps
1. First you boil the sugar, water and syrup together for 5 minutes
2. After everything is done boiling, you add the butter and cocoa together. You heat those up until its warm
3. After everything is warm, you add the mix into the crushed biscuits (plain ones) together in a bowl
4. You also can add lemon peels and rum if you want
5. Stir everything you made and mix together.
6. Place them in a cling film by rolling them up into a tube shape, while they are still warm.
7. Leave in the fridge for 1 hour to cool down, and then take them out and enjoy!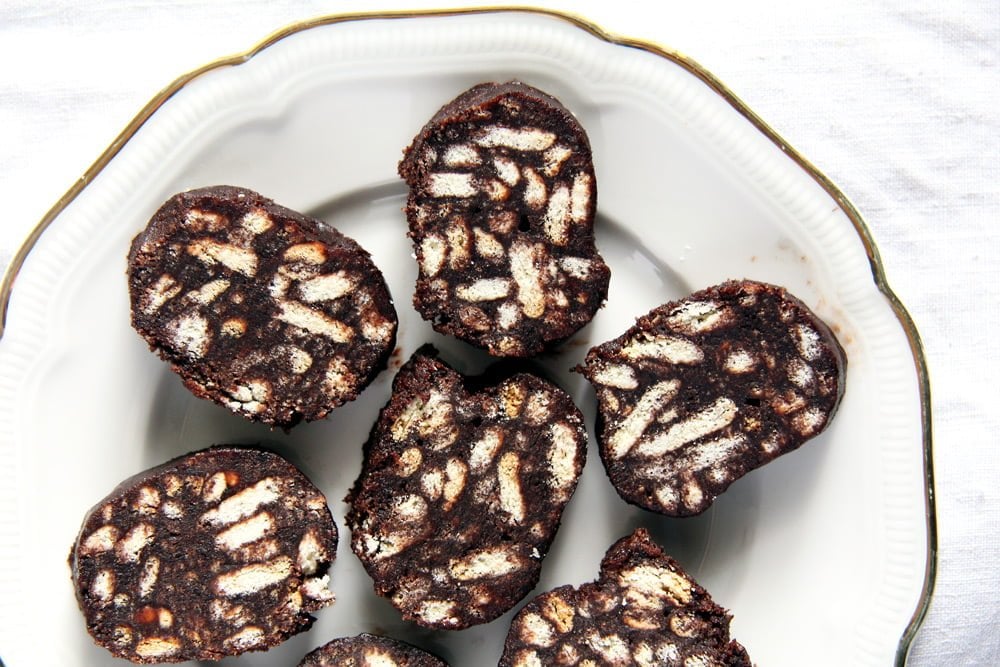 ---
Can you tell us why this recipe is important to you? Is it a family recipe, and is there any history or story behind it?
Alex: Have fun with it! You can add a lot of extra stuff, like raisins or turkish delight, so don't hesitate to experiment with it!
---
Thank you, Alex, for this very delicious recipe!
With that, we've reached the end of the post. I know you wanted to read more XD but I will be back next time with more fresh and delicious content. If anyone would like to share a recipe with us, DM me with your ideas!
Bon Appetit! <3
Keep Unleashing

the

Power Of Helping!
Mayathefirst
Filed under: Food For Every Soul, Help Force Army, Help Force Club Penguin, Help Force CP, HF CP, HF of CP, Web Series Tagged: | Chocolate Salami, delicious content, Food for Every Soul, Food for Every Soul HF, HF Alex, HF Cabinet Secretary Alex, HF Cabinet Secretary Maya, HF Maya