Hey there Helpers,
You might've noticed and heard stuff happening around and in Help Force. Read this post and get your mind cleared, As a brief statement > We are no longer in Club Penguin Online , and it's Army Central. We have moved into a much better , fairer and smarter league run legitimately. Join the new Help Force Discord from Here > https://discord.gg/HQGQTNT

So, What Exactly happened? As all of you know the way CPO's Army League runs, I'll be describing that in a bit, In short the Staff Team of Help Force and their Leaders got frustrated with the stuff that happened lately. We've always tried to make our community as Stable as possible, But there's a limit to everything, Being cool and calm about things doesn't mean people can sit on your head and do whatever they want to do. Help Force was our army and we did what was right for it. Earlier today, We removed people from the Help Force Discord owned by Epic101 and moved them into what earlier was the NAA Discord. Fortunately , It all happened very successfully and the good news is that after about an year of suppression , Help Force is finally under us completely.
Why make this decision? There were many factors which led to us making such a crucial decision. The Major one was the way how Epic ran his League and how he treated the HF and their leaders. I led Help Force from the day I created it till August 2019, To be honest, Club Penguin Online is undoubtedly the best CPPS for gaining recruits, but the league is just toxic and not worthy of legitimate armies.
There have been many efforts made by Me, other CPA Members about fixing the thing but the main issue talking and dealing out stuff with Epic is that he's too much into the Power he has that he does not see what the best for the community is.
Earlier this year, I had made a post revealing all the things he does in CPO AL which makes it unfair. After I retired, I was shocked to hear that he kept reviving original armies and bringing them into CPO leading all of them. Dude how many armies are actually there in CPO without you creating them? lmao. The Post regarding how he does all the Shit tactics to make the league biased is in here > https://hfofcpo.com/2019/07/31/truth-about-the-modern-day-armies-insight/
You would think that this couldn't be the only reason you decided to move, It's been happening since Ages. Well yes, when I retired I knew that nothing was going to change, Earlier this month Spotty told me she was thinking of retiring, I without a doubt told her that we should shut HF down then. I had no clue that on the topic of this, Epic would go such far but to humiliate me and give people the hint that he was going to take over HF, like he's been doing with other armies.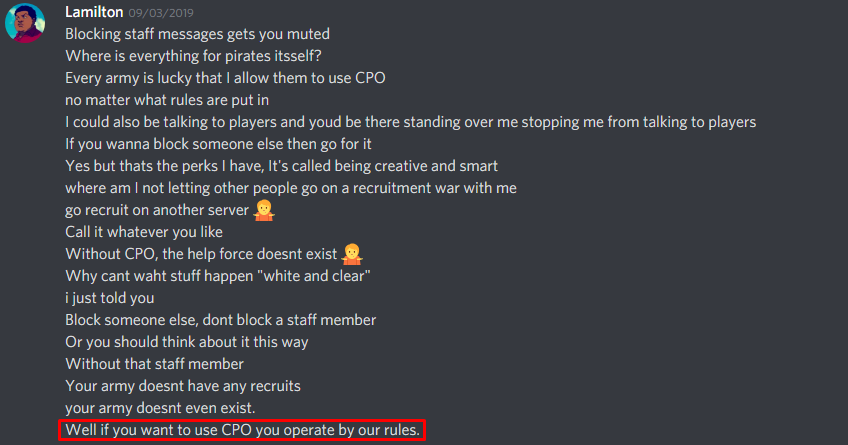 There have been many instances over this year where we've felt that we are being sidelined and just being used as pawns for being the biggest in CPO AL. Think of it yourselves – How many Armies actually are there in CPO AL ? CPO AL always has been Epic forming Armies with sharing Invites in CPO Discord + Help Force. That would never change, neither would he.
What will happen now? There is a lot of drama about to come, Epic and the CPO Staff may form a "CPO HF" confusing people regarding it, They might announce their universal "They're hacked" thing lmao. I just want them and y'all to know, We don't give a shit now. We successfully moved, We're in a better place, Do whatever you want to do but you won't be able to break the Unity, that's my word.
To Riley, Kiwii, Jaz, QB, other CPO Staff : This hasn't been done because of any "Anti-CPO" feelings. As I told you, I agree to the fact that CPO is best for recruits, It's just the league that isn't. Y'all have helped HF in its beginning stages and we'll always owe it to you. Other than that, It's a request to check out what actually goes in CPO AL and try to fix it, There are armies there trying to survive and I really hope they do not get the same dramas we had to face.
To the HF Community : For whoever stayed, Thank you a lot for showing your Loyalty. We dominated Club Penguin Online and we will keep doing that here. Stabilizing would be a bit difficult but we've gone through harder times. Stay close, Stay safe and Unleash the Power of Helping !
To Armies in CPO and their Leaders : Leave whilst you can lol.
A Tip : Do not give your army websites to them if they ask you to.
In the end , I would just like to Thank all of the people who were in the Help Force whilst we were in CPO. Thank you for supporting us and it is totally alright if you chose CPO over us. It's a new journey for all of us, Let's Unleash the Power of Helping !
~Ayan, Creator
Filed under: Help Force CP, HF CP, Important News