Zipline , Help Force Capital – There was a time , a time when Help Force was nothing but a mere "Group" consisting of less than 30 Members who went through the Cold Island with an aim to help fellow penguins with stamps.
"Time and Tides wait for none" , I simply can not believe that Help Force has turned 1 Year today. Since when I formed HF in March , I've had a totally different experience being in the Online Community. I found loads of new friends and amazing People and I'm thankful to the Army for giving me such an amazing experience. We faced a lot of ups and downs , We started , struggled , but the hopes and passion for the Army never went down.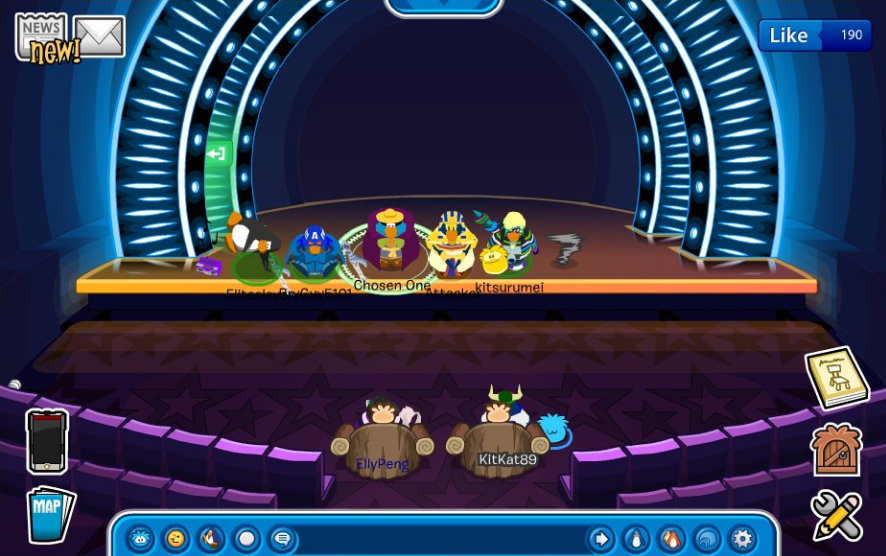 Struggling through times when we didn't know how to run an "army" to the times now when we are the Strongest Army in Club Penguin Army Universe , Things went pretty fast and pretty well.
Maxing 10-15 Earlier to maxing 45-60 these days , Help Force not only grew , but the members bonded with each other and that was one of the main reasons for the Success of the Army.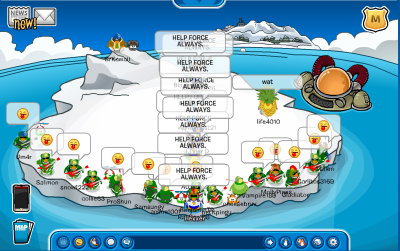 Here is what people have to say about the Anniversary :
When I first joined Help Force I just thought it would be fun to help other penguins out for awhile. I didn't expect to be made mod (pro helper) so fast. I was lucky to have Poofy Potato as my partner to do stamp segments. We were online almost everyday and had some awesome segments and some very lame segments. It was a fun spring and summer experience. In September I was going to retire but then everybody became inactive because of school. So I thought if I left Help Force it would die for sure. Ayan and I talked about closing HF for a couple months until October or November when people would start getting holiday time off, but Kiara and Kavacado talked us into keeping the HF open and just work thru the slow times. It was very hard doing segments by yourself and even CPO was not very active at that time of year. I started to get less time to go online and it seemed HF was doomed but then Bestpenguin joined and soon after so did Christene. With Kavacado and Kiara they brought HF back from the edge of doom and in October HF did start to grow again. Ayan came back and worked very hard to get events active and keep the recruitment effort going. In December Help Force saw the greatest growth and we were a force to be reckoned with. I saw this as a good time to retire now that Help Force was in good hands and would surely survive. With hard work and dedication Ayan showed that a little idea like Help Force can become a really great thing for everybody who participates in it. In my past experiences I found out that time goes by fast. So when you join a group or a team make the most out of it as fast as you can because everything changes in a week, or month, to a year. Just be the best you can be and nobody can ask for more from you.
~Morty ( HF Legend )
The HF Anniversary has finally come :D. I've been waiting for the day since I joined HF. Ayan invited me to HF on the 15th of March and since that day till today, the love the HF community has given me is just unforgettable. Idk how time passed this quick and now we've reached the time where HF is one of the Top 2 armies of CPO that has almost reached 1500 members :D. That's like a huge achievement for HF. I mean, tbh I never thought this would have ever happened cos HF wasnt really created with the purpose of being an Army LOL. My Journey in HF has been a wonderful one. Never did I imagine to get such a loving community :-). HF has been like a lovely virtual Family to me. I just cant express how connected to it I am.
~Kiara
I met a lot of good people that I never met in my life. I was slowly connected emotionally to people such as Kiara , Ayan and Christene almost all the staff in HF . If HF members were not cooperative to the rules, then HF would not be able to live. It was my pleasure to be a mod in HF. During the time of trouble many trustworthy people helped HF to survive . I really hope HF lives forever and I know that it has the strength to do that . HF rocks and I hope that all the people have opportunity to help everyone in game as well as in real life . My experience till now in HF was really amazing and I hope it will be good in the future too.
( HAPPY ANNIVERSARY HELP FORCE ) . I'll never forget the love HF has given me and I will be gratetful to everything that HF has granted me . THANKS FOR EVERYTHING .
~Bestpenguin
This isn't just an army , It's a Family…
~Shoto (Eliteslayer)
Wow Help force is now a year old. I first joined it in the middle of April when they helped me to tip the iceberg (yes I was one of those penguins). The last couple of months, this community has really felt like a family to me, with all the weddings, funerals and funny moments, us all complaining about us being tired and getting excited when we came to the 2nd place. I would like to thank everyone who has been part of the Help force in the past year and help make it what it is today. (Especially Ayan,who has been very welcoming and has part a lot of time and effort into making this wonderful army. )
~Spotty (Current HF Leader)
Being an HF member is a really unique experience and I totally recommend joining. I've earned a lot from being in HF, for example I've improved my English speaking. HF to me is a way to spend my leisure time and I feel like being in a party with your friends. I've met new people from different parts of the world and with different personalities. It's really fun!
~Jason
Wow, honestly I don't even know where to start, I have been in HF for quite a while now it's practically grown on me. I progressed and became more active at around the end of April and during the summer I made life-long memories which I can treasure for quite a while :'). I ended up becoming best friends with Amber and connecting with the whole staff team too. Everyone was so welcoming and open it made me feel as if I was apart of a family uwu. Whilst we had our ups and downs like the HF dark days in September, we all managed to get through it with the help of some notable members and it shows that as a team, we can get past any obstacles that come toward us and that's what any good team can achieve. To end this on a happy note, I will never forget the people and memories that have come by me here. I wish Help force the happiest birthday and I hope it treats you well! keep it up everyone
~Kavacado (Icycreamey) (HF Current 2ic)
This Video was released as a Help Force CPO Trailer :
Happy

1st Anniversary

Everyone


I hope this year brings a new excitement for everyone whilst maintaining our legacy and keep growing !


Unleash the Power of Helping !