ZIPLINE, Vedant's Restaurant — After three days of voting, and a turnout of over sixty votes, we can now bring to you the results of the End of the Year Awards 2020.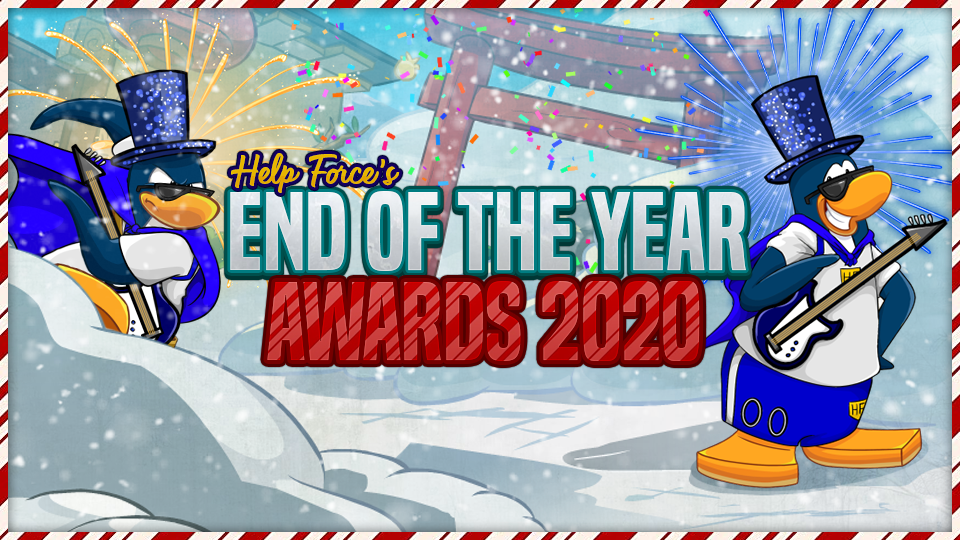 *credits to zamb for the banner, the amazing awards committee for managing this, and Elpiojo for tallying the votes*
Best Commander
1. Vedant
2. Tistle
3. Moon
(Close – Hannah, and Juanita)
—
Elite Staff Members
1. Nell
2. Rooboo
3. Monika
(Close – Riley, Ru, Jayden, Chickn, and Joe)
—
Biggest Showdown
1. HF vs. Army of Club Penguin (Aces of AUSIA Finals)
2. HF vs. Doritos of Club Penguin (Legends Cup X Quarter Finals)
3. HF vs. Rebel Penguin Federation (Christmas Chaos X Semi Finals)
(Close – vs. RPF (FoF), WV (FoF), DW (LCX), and ACP (Holiday Semis))
—
Favourite Tournament
1. Aces of AUSIA
2. Legends Cup X
3. Fight or Fright
(Close – Christmas Chaos X, and CPAM Premiere League)
—
Most Treasured Army Event
1. The Battle of the Beasts – Halloween Week Branch Battle
2A. Tistle's retirement event- HF Island Tour
2B. Last Juanita day of 2020 – JTS event
(Close – Squidmits Takeover, Hannah's Retirement, Obsidian Dragon Takeover, and Phantom Fiesta)
—
Most Memorable Quote
"I feel like I'm watching a soap opera but I started halfway through the season so there's no context and nothing makes sense but I love it anyway" – Hstergirl
"Oh grow up already" – Elp
"Can someone ping me when I can comment cuz I really need to poop? Please" – Cooper
—
Supreme Recruiter
1. Diwix
2. Comedy
3. Snowflake
(Close – Lisa, Sahil, Marshmallow, and Sommer)
—
Best Romantic Ship
1. Barnell
2. Elpyan
3. Josh & Jc
(Close – Sprince & Traffic, Kasnah, and Janez & Holly)
—
Ultimate Helper
1. Diwix
2. Comedy
3. Snowflake
(Close – Sharky, Hstergirl, Nafis, Xtra, and Sahil)
—
Most Hilarious Moment
1. Juanita Day
2. #Simp4Vedant
3. Duolingo Raid
(Close – Rohan's Alts, SharkyAvenger, Rin Force, and Kasnah Wedding)
---
That concludes the End of the Year Awards 2020. Congratulations to all the winners. Winning a yearly award is a massive honour and shows how much you are valued in this community. Thank you to everyone who voted and just like last time, the awards were a huge success.
Unleash the Power of Helping!
Filed under: End of the year Awards, Help Force Awards, Help Force CP, Important News