Trick or Treat Helpers! Welcome back to another edition of The Help Force Diaries! As you all know, this week was Help Force's Halloween Fun-week, which was a massive success! This week saw fun-events every day, including an army battle on Saturday and plenty of segments, keeping the community occupied and the member list growing. How much can you remember from this week? Can you see yourself in any of the pictures? If you can, great! No matter which team you were in, your team are extremely proud of your effort and contribution! So let's review what happened this week in Help Force!
Dear Diary,
Monday
Monday's Fun-event was one of the highlights of the week. After successfully sorting teams and warming up with private fun-events within the groups, the first big event was the Fashion Show at US time. This was the highest attendance at a fashion show for Help Force, with over 40 members participated in one of the most intense fashion shows hosted by Help Force! The winners in this event were Team Vampires, with Werewolf Mess Mess winning the most rounds!
Tuesday
Tuesday's Event saw the Teams battle on the waterfall in a Card Jitsu Water Tournament at a time suitable for AUSIA members. This event was fought in 4 player rounds, one player per team, with the winner bagging a point for their team. At the end of this clash between the teams, 3 teams tied for the most points! Vampires, Ghosts and Werewolves all won 2 games each, and therefore split the glory, with Skeletons only winning 1 event and falling behind on points in the opening events of the week.
Wednesday
After two successful events to start the week, Wednesday brought the first UK time encounter, Hide and Seek. Hiding in teams with all the new Halloween decorations around CPO, the objective was to evade the seekers for as long as possible, and the team with the longest collective time would be crowned winners. On this occasion, Ghost Leader Lottie hid on floor 6 of the Puffle Hotel for over 13 minutes, which turned out to be more than enough than the rest of the teams. This victory for the ghosts saw climb them leaderboard, with both them and Vampires fighting for top spot!
Thursday
Family Feud was the order of the day for Thursday, as Skeleton's leader Kava hosted an event attended by 30 members at the Iceberg on Zipline. This trivial event featured topics including Help Force, Halloween themes and General Knowledge. In the end, Werewolves were victorious, winning 3 rounds which was enough to see out the rest of the competition and claim crucial points towards their bid for the top spot, making Ghosts, Vampires and Werewolves all equal on points going into the second half of the week!
Friday
Friday saw the first US Guess The Room event since the beginning of August as Werewolves Leader Tistle hosted 20 rounds of this fast-paced and somewhat stressful game. However it was clear after a few rounds that Leaders Spotty and Lottie had studied the rooms thoroughly, and by themselves won a large amount of the rooms. Vampires were dominant as a whole, winning 11 rooms to claim a well deserved victory with Ghosts finishing runners up. This left Skeletons with little chance of winning the week, and Vampires on top going into the final couple of days.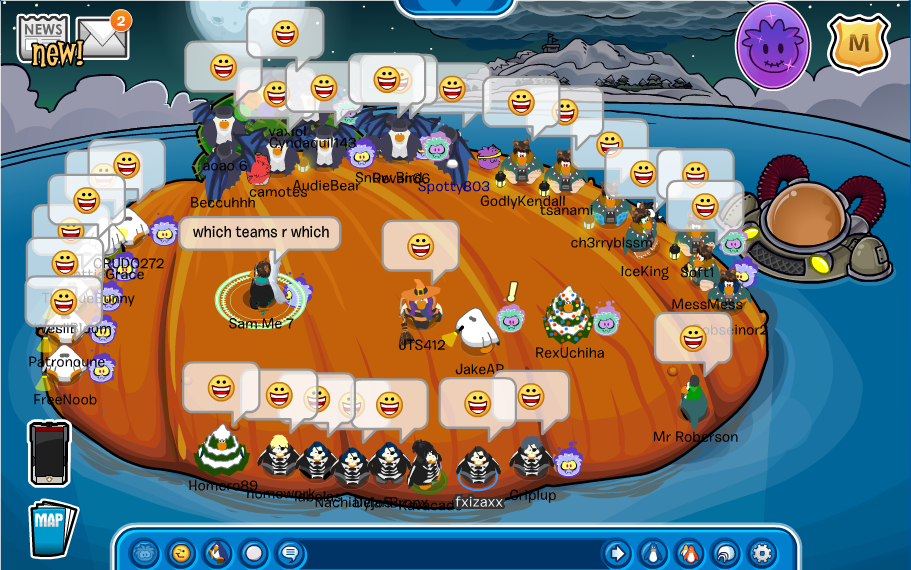 Saturday
Saturday saw Help Force reunite in their iconic blue uniform for their big Saturday event, which saw maxes of 69+ to sum up an impressive week of hard work from the Helpers! This practice event gave promotions to attendees and really showed that Help Force never take a break, never rest up. They're always ready to battle and are always ready to win! Here are some pictures of the best pictures in each room from the event!
Sunday
Sunday was arguably the biggest day of them all, with two events, one at both AUSIA and UK timings. This was the Team Battle events, as Ghosts fought Skeletons and Vampires took on Werewolves in a heated contest to play in the Final of the Battle and to be victorious. Ghosts against Skeletons was the first fixture, as Skeletons Leader Kava and Ghosts Sub-Leader DaSwagger used innovative tactics and formations against each other. Skeletons came out on top, with clinically executed tactics and synchronization, earning them their spot in the final!
The other Semi Final was the top two sides, as Vampires Leader Spotty and Werewolves Leader Tistle contested an evenly matched battle. Again, both used witty tactics and reacted to each other's ones which made it even more entertaining. However, Werewolves were simply more awake at the battle, performing tactics non-stop for 30 minutes and claiming a well deserved victory of the Vampires!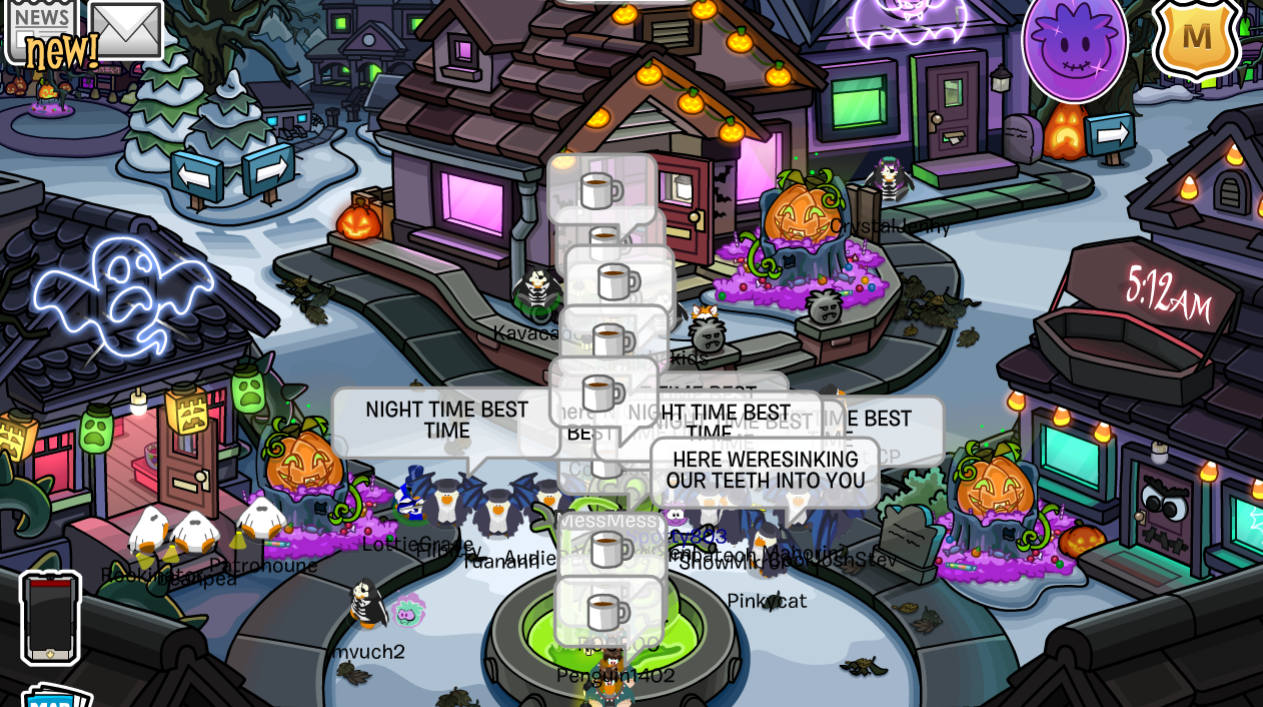 The 3rd place match was as crucial as the Final, with Vampires needing to secure 3rd in order to at least tie the full scores. Unfortunately for the Ghosts, they were vastly out numbered by the Vampires, despite their keen efforts to show what they were made of, and the return of Ghosts Leader Lottie to her post as Leader. Vampires claimed 3rd place, leaving the competition in Werewolves' paws…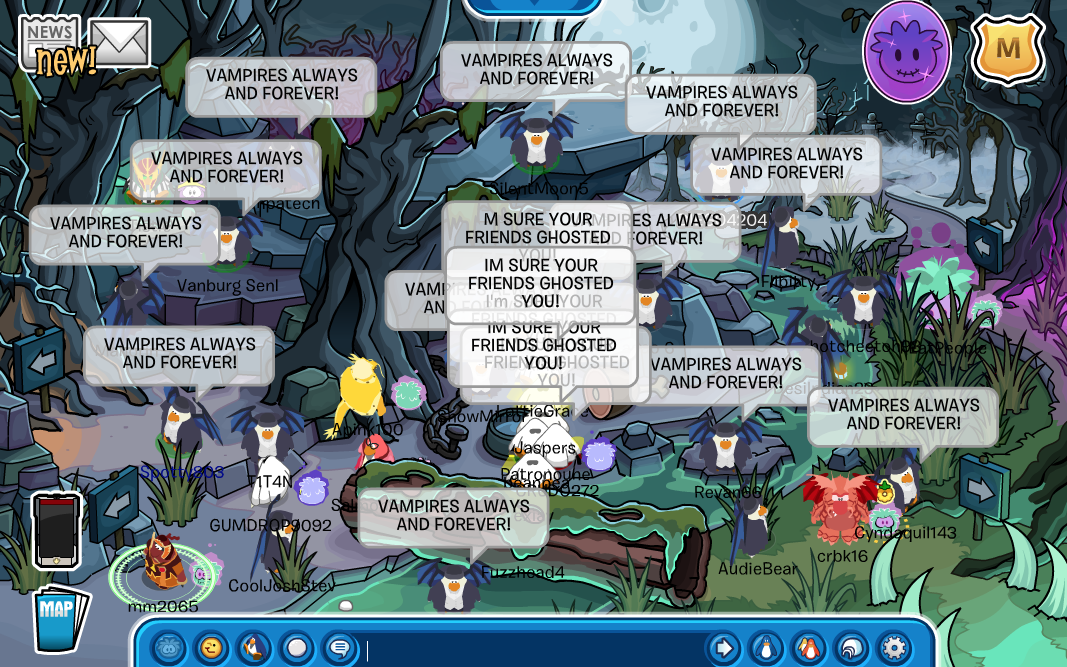 The Final was huge. Both squads began with around 15 members, each throwing tactics at each other as if their lives depended on it. This was by far the tightest contest of them all, as both sides won a room a piece going into the final room. Once again, Skeletons' perfect synchronization and inventive remarks brought more fluency to the battle, and the Judges awarded Skeletons the overall victory for the day. Congratulations Skeletons!
Therefore, with Skeletons winning the final event, the leader board at the end of the week remained as tight as it had done all week. Werewolves bridged the gap to Vampires but didn't manage to gain any more points, making them TIED FIRST PLACE WITH VAMPIRES!!
1st – Vampires – 1100
1st – Werewolves – 1100
2nd – Ghosts – 850
3rd – Skeletons – 500
The Team Leaders and Staff would like to thank each and every one of you for participating in events this week and making this week as enjoyable as possible for all of you! We hope you made new friends this week and hopefully you will join our mission of reaching 10000 Members later this month! Congrats again Vampires and Werewolves!
Following tradition, the segments kept ticking over and this week was no exception. Fxizaxx, who reached an impeccable 5800 points this week was crowned GoTW for the 3rd time, with 1250 more points than her closest rival! Make sure to check and like the twitter post by the HF Twitter account! Congrats Fxizaxx again on another dominant display!
In other news this week, I have been requested to mention two new ships that have evolved in the past days within the server. Their names won't be mentioned here, but if you've been in and around 'general' over the past few days you will no doubt have noticed a lot of these two ships there. If you have any queries, don't hesitate to contact 1ic's Spotty and Lottie, as they'll gladly answer any theories you may have about what's going to happen next :E7:
Once again, we thank you all for your massive effort over the last week and we hope to see you all again for future events and battles! Unleash the Power of Helping!!
Filed under: HF CP, The Help Force Diaries