GENERAL CHAT, Elp's Lair — In a sudden turn of events, we've seen several staff members get demoted, and a fierce coup of the greedy curse breaker.
Update @ 12 49 AM IST: Wynn has apologized to me after realizing her mistakes.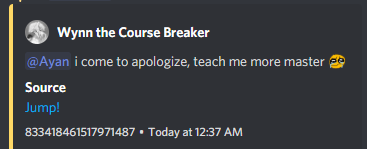 On 19th April 12:30 AM IST, the Help Force faced a crisis. After a nail-biting competition between Wynn and myself, she used the public support indecently and removed me from leadership. Below you can see the state of the member list after the incident occurred.

What triggered everyone was Wynn's decisions as a commander. Allying with former enemies Templars and threatening staff demotions didn't suit everyone well. 

But to our save, the flaming queen Nell appeared to bid herself for challenging the newly appointed Monarch. As the saying goes, the "good always win, eventually", became true as Nell whitewashed and couped Wynn with a 2-0 score. Suck it Wynn 😛
Btw just saying, I won against Wynn, but they rigged it against me sobs.
Filed under: Help Force CP