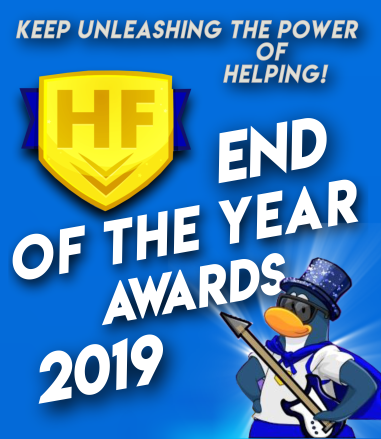 As the Year comes to an end, We saw a lot of Events which happened this year, With Active Troops joining, Various Retirements, Heck load of Dramas and obviously the Fun we had, not as an army, but a Family.
Here, We bring to you the End of the Year Help Force Awards for 2019. There have been various people who've contributed in different ways, Whilst the Staff putting all of their effort to not stop the growth of the army.
The Awards are sorted out into various categories, With nominees in each one of them :
Important Note : Do not vote for a person because they're your friend, or they mean a lot to you, Vote for them only if you think they're the most suitable for the Award.
The Voting is to be done by Commenting in the Post Below. You can remain Anonymous, The Voting Procedure is given at the end of the Post.
<><><><><><><><><><><>
Best Leader 
A Leader is not just someone who is there to lead battles, or give orders. A leader is someone who will recruit troops, guide them all along and strive to be better. A Leader isn't identified by how popular he is, or how much sizes did he manage the army to get to, A Leader is the one person in the Army who takes notice of each detail happening in and around the army and then makes decisions for the betterment of it. Help Force has seen 5 Major Leaders in the 2019 Era, They've been listed below, Choose Wisely.
[**You can only Vote for 1**]
Ayan
Spotty
Elpiojo
Kavacado
Lottie
Tistle
Best Troop
A Troop is the person who's dedicated towards the army and it's ideals. Loyalty plays the most important role for a Troop, Whilst them being active and hyped up for participating in anything they can. Here is the list of some of the Amazing Troops HF has got in 2019.
[ **You are allowed to vote for – Maximum 3** ]
Katty
Faz
Kendall
SnowMirror
Rooboo
Solar
Ludwiing
Evelyn [ Watercircle ]
Lisa
Riverdale
Yellowxannie
BeanPea
Birdium
Jayden
Amy
Elec Twix
NateHam
Sid0909
MrMNM
FroggyBenjy
Bella [ Mack ]
Tanjo
Best Staff Member
Like a Leader, The Staff team comprises of people who work hard behind the scenes and help the Leaders in various zones. A Staff Member is the one who's responsible for keeping the community fun and alive, while moderating chats and kicking out trolls who try to bring down the morale of the army. [ **You can Vote for – Maximum 3** ]
BestPenguin
Christene
Attacker
Kiara
Shoto
SkeletonLad
MessMess
Pandabelly
Jason
Juanita
Snowflaxe
AriaXenn
Ansolo
Crystal
Diego
BananaBxr
Rorange
Aoao
Harout
Moon
Flypin
DaSwagger
Vedant [ Barnito ]
Beni
Shad
Most Vital Incident 
The Most Vital Incident is referred to as the Incident which made the army more active, Helped it grow in some or the other way. It can also mean a feat or an achievement.[**Only Vote for 1**]
Candy Corn Event – Max 90 [ Spotty ]
Anniversary Events
Harry Potter Week
Spanish Community Formation – [ Elp ]
Summer Bash 2019
Templars War
Formation of NAA
HF Cup
Best Controversy
As the name suggests, The most fiery drama the Help Force witnessed.
[**Only Vote for 1**]
January Drama
Blue Yogurt and the Anti-HF Server
The Spanish Drama
Helper Exodus 2019
Most Funny Character
Some of the Wildly Hilarious things you'll remember which happened in 2019.
[**You are allowed to Vote for 1**]
Kavacado [ Kava Naps ]
Juanita [ JTS ]
Lottie [ Squeaky Laugh ]
Spotty [ Infinite Ships ]
Elp [ VC Party's ]
The Spotiojo Rigging
Ayan [ Sex Ed ]
Aoao [ His Pfp's ]
NeoBlaze [ His Puns ]
Tistle [ Tuba & Rin ]
HF Bot [ Struggling it's way through life ]
NAA & It's Colonies [ Jesus Christ save them ]
Best Romantic Ship
In 2019, We all witnessed various couples intermingling with each other, Here are some of the most popular Ships of 2019. [**Vote for only 1**]
Spotiojo
Kiayan
Kavattacker
Loon/Moonpop
Rorita
Spottle
Lolbert
Bestflaxe
KukFly
Best Army Event 
10k Members Event
CandyCorn Event [ Max 90 ]
HF Anniversary
Summer Bash Finals
Invasion of Boots [ vs Templars – Win ]
Advanced Invasion of Flurry [ vs Pirates – Win ]
<><><><><><><><>
Voting Procedure : [ Through Comments of this Post ]
Copy this Format in the Comments Section , and fill it up :
[ You may Be Anonymous but DO NOT SEND MORE THAN ONCE ]
Votes for the End of the Year Awards –
Best Leader –
Best Troops –
Best Staff Members –
Most Vital Incident –
Best Controversy –
Most Funny Character –
Best Romantic Ship –
Best Army Event –
Voting Ends on 31st December : 11:59 PM IST
<><><><><><><><><><><><><><><><><><><><><><><><><><>
Filed under: End of the year Awards, Help Force CP, HF CP, Important News Tagged: | End of the Year Awards, Help Force Awards