Hey there helpers,
Earlier today, the Aliens decided to violate the Winter Treaty which was between Aliens, Fashion Army and Help Force Army. I'm here with all that you need to know!Last Saturday, a Help Force member by the name of Virtuuso attacked the MAC Discord server and the Fashion Army's Server by mass Pinging.
HE WAS UNDER CONTROL OF HIMSELF. HELP FORCE DID NOT INSTRUCT HIM TO DO THIS. 
To respond, Sans, the owner of Aliens, sent someone to ping @helpers in the Help Force which the guy did 20 times. Since he instructed to attack Help Force, this was a violation of the treaty. So, they had to give Help Force White Out. If they refused, Help Force had the rights to declare war.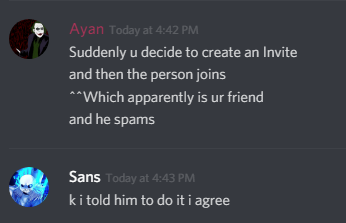 After Ayan and Sans talked, it was acknowledged that Aliens had violated the treaty. He agreed to give up White Out and avoided war.
Soon after this was decided , the CPO Army League released the Server Map. Due to some armies not having their own Servers , The Help Force had to restrain from taking the whole of Whiteout instead , Whiteout was declared as a Shared Territory between Help Force , Aliens and the Fashion Army.
Sleet = Pirates
Blizzard = Aliens
Flurry = Light Troops
Zipline = Help Force
White Out = Help Force / Fashion Army / Aliens
Alaska = Shared (Only for recruiting)
On Top of this , The Modern Alliance of CPO Including the Fashion Army , Aliens and Hurricanes have planned a Raid on the HF Territory :
<><><><><><><><><><><><><><><><>
An essence of war is flowing around Armies right now. What do you think should happen?
Comment Below for that ⇓
What did you think about this post? We are open to suggestions in-order to improve our posting! Comment down below!
Filed under: Help Force CP, Important News Tagged: | Aliens of CPO, CPO Aliens, Crimson Guardians CPO, Fashion Army CPO, Nature Embracers of CPO